A new innings — from crease to grease
FROM crease to grease has been but a small step for Salil Ankola. Today, nine months after he hesitantly tip-toed into the arclights, the cricketer-turned-star is a busy-busy young man. He's a much-sought-after model for TV ads and is already getting choice roles on the small screen. He also claims to have rejected over a dozen film offers.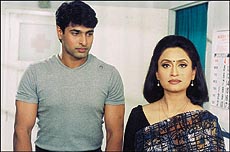 A year ago it was a leg injury which put Ankola on a forced rest from cricket. Sitting at home and doing nothing was boring and, he says, "I thought I'd try my hand at acting." With a man like Nana Patekar as a close friend, Ankola needed no better person to advise and encourage him.
And there's been no looking back since then. Following his reasonably good portrayal in Chahat Aur Nafrat, Ankola is now appearing in the pivotal role in Asha Parekh's Kora Kagaz and UTV's Jaal. He also has the lead role in Manoj Nautiyal's Woh Sach Hai on DD and has done four episodes of Saturday Suspense and one of the spooky serial X-Zone.
But it's Ankola's model life which is exciting him the most. He has done ad spots for Head and Shoulders shampoo, one for Amul undergarments and more are in the pipeline. "The cricket grounds are far behind me", says Ankola and adds, "Now I am only committed to the game like any other fan."
One can't really blame Ankola. After having been virtually sidelined by the Indian selectors, he is out to prove that he can bowl people over in another field.
Saga of intrigues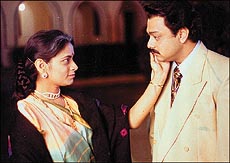 As if a host of serials like Swabhimaan, Rishtey and Andaaz were not enough, here's another one about revenge, greed, power, wealth and money.
Lakshay on Zee is all about business rivalry, human relationships, personal vendetta and the works. The serial has almost an epic like sweep about it. It traces the roots of a Gujarati banking family right from the time it ran a small finance company to become modern day merchant bankers.
The serial begins in the 50s and, meandering through the decades, enters the late 90s. It is about the yearnings of businessman Ishwarchandra and his efforts at finding the right heir to his business empire.
An interesting twist is given to the serial by Ishwarchandra's manipulative niece Bela and her husband Abhishek — who has no time for his wife as he is totally engrossed in his father-in-law's newspaper. The story further intensifies as Ishwarchandra is faced with the wrath of a grandson he has never been aware of.
Which all makes Lakshay a classic family battle of intelligence, acumen and cunningness. But at the end of it all there's certain sense of deja vu. Family intrigues, greed and double crossing are the ingredients of most of the currently running soaps. Only they go by different titles.
Hare Krishna!
Hardcore critics may pan it as a serial which is downright crass as far as the production values are concerned and sophisticated viewers may shun it as garish and theatrical. But Ramanand Sagar is having the last laugh as far as Shri Krishna is concerned.
The mythological, aired every Sunday on Doordarshan, is now topping all the popularity charts including IMRB, Marg-Intam and DD's own popularity index, DART. According to DD sources the show has been averaging a mind-boggling TRP of 41.
With such high TRP it is not amazing that Shri Krishna has earned an amazing Rs 69 crore in the last five years since it has been running. It earned around Rs 14 crore when it was telecast on DD Metro and after it came on the national channel it has yielded another Rs 55 crore. And the figures are rising with every telecast.
Which all must go to make producer Prem Sagar a very rich man. And why not? After all it was the house of Sagars which taught the craft of stretching a mythological when it first put Ramayana on the national network back in the late 80s. After all, one good turn deserves another.
Tryst with runaway trains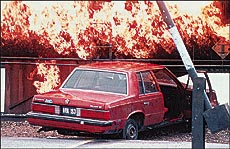 Imagine the impact of a speeding car colliding with a bunch of small birds. Now imagine 2,25,000 kilos of steel travelling at the speed of 100 kmph crashing into a school bus full of children. The thought itself is horrifying. Although the factors involved are very different the effects are devastating. Discovery Channel takes a look at some of the most heart-breaking railway mishaps of the modern era. In the US accidents involving heavy freight trains cause potentially deadly situations such as toxic waste spills and closing major highways for days. In India the extreme overcrowding of trains often results in a high death toll during mishaps.
Runaway Trains premiering on November 15 at 10 p.m. brings viewers to the scene of the accident, shows them how it was caused and what's being done to make the railways safer every day. A compelling documentary with graphic archival material, re-enactments, computer animations and interviews with survivors. In short all the ingredients to keep you on the edge of your seat for one hour.
A Daler Bhangra King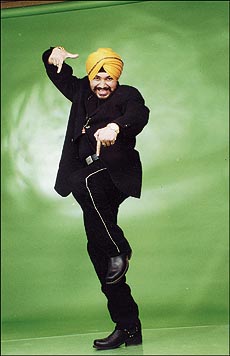 The Sultan of Bhangra Pop is back with his pulsating beat and a performance which is guaranteed to set the dance floors on fire. But Daler Mehndi warns that his latest album, Tunak Tunak Tun and its video are not for the faint hearted.
The racy rhythm track coupled with Daler's powerful vocals and an energetic dance style goes to make a heady combination. This is the first of the three albums for which he has charged Magnasound a whopping Rs 2.5 crore.
In terms of style of music, the singer has mixed bhangra beat with a dash of rap and reggae blending the sophistication of classical music to the raw energy of dance. Interestingly, the album has no chorus singers as all back-up vocals are by Daler himself.
So, get ready for a hurricane album which has earthy singles like Billo, Jalwa, La La Dum and of course, Tunak Tunak Tun. And be sure you'll be seeing plenty of Daler Mehndi on Channel V, MTV and other music channels as they burn up the air waves with the video renditions of Daler's new album..
— Mukesh Khosla