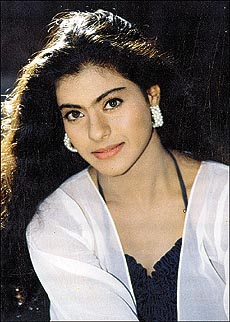 Kajol scores a hat-trick
By Madhur Mittal
And so, the dusky, hazel-eyed charmer has done it — achieved the (rare) distinction of a hat-trick of superbly successful starrers. Pyar Kiya To Darna Kya was the first hit, followed by Pyar To Hona Hi Tha... and now, Kuch Kuch Hota Hai, which is a sensational sellout. Yes, comely Kajol is not only ruling the box office, but cinegoers' hearts, as well!
As a matter of fact, the trade pundits have already put the coveted stamp of numero uno on the actress... officially proclaiming Kajol to be the heroine of 1998! And this time, there can be no doubt or debate that they've picked the true winner. Kajol has emerged as the consummate heroine with her excellent emoting and sensational screen presence in each portrayal .
Where does this leave the likes of Karisma and Tabu, I wonder?
Sunder Soundriya!
Another South Indian sizzler has stepped into Hindi filmland. Her name is Soundriya and, believe you me, she is certainly sunder alright. Innocent, photogenic and a terrific dancer she may soon be the rage of Bollywood...
Having given huge hits with almost all the top stars of the South — Rajnikant, Nagarjuna, Venkatesh, Chiranjeevi et al — Soundriya's debut Hindi movie will be a remake of the Tamil blockbuster, Suryavansham. All other cast and credits are being finalised at rapidfire speed... and one hears names like, Aamir Khan and Amitabh Bachchan being mentioned on the marquee. Wow!
Telling time
Betting is the buzzword in Bollywood these days, with mind-boggling amounts perched precariously on the 'big' question: "Will Bade Miyan Chhote Miyan be a hit?"
While the Amitabh-Govinda camp feels that there can be no stopping the film from going on to bust the box office in the long run, there are others who think that Kuch Kuch Hota Hai has taken much of the wind out of Bade Miyan Chhote Miyan's sails... and that the former film should not have been released on the same day as the latter.
As of now, the Big B, Govinda and David Dhawan are pretty upbeat (even though they might have their fingers crossed behind their backs) and are making light of the fact that Kuch Kuch Hota Hai has pulled in a (far) more impressive initial than BMCM. The final verdict? Only time will tell.
A drab Divali
This year's Divali in Bollywood could, perhaps, be counted as one of the most downbeat and drab one in years. The usual rounds of frenetic jewellery splurges, late night card games with premium scotch, and extravagant fireworks at stars' and filmmakers' homes, were singularly conspicuous by their absence.
Instead, a worried and cash crunched film fraternity chose to play the festivities real low key — sending out gifts and boxes of sweets only to those few who simply couldn't be avoided! Oh, but the one thing that they all did most elaborately (and imploringly) was the pujan of Goddess Lakshmi. Evidently, they were praying for her to please relent now and start showering the greenbacks once more!
The Mother of all films!
The release of the film has been hanging fire since August 15 and, even today, there is no concrete indication as to when it's hit the cinema halls. At this rate, producer-director Saawan Kumar may have to change his film's title from Mother 98 to Mother 2000!
The filmmaker himself was unavailable for comment, but the rumour making the rounds is that Rekha is unhappy with it and wants a major chunk to be entirely rewritten and reshot!