Gladiolus is an excellent landscape plant that improves the aesthetic look of the garden. It can be grown in flat beds as well as on ridges like potatoes, observes Satish Narula
Plan your garden differently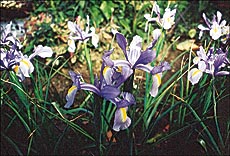 WINTER offers a large variety of flora. Every year you can plan your garden in a different way. A little thought, judicious planning and a careful selection is the keyword. No. It does not mean shifting beds here and there or giving different shapes to beds. Decide what you want this year. All fragrant flowers? No. Bulbous flowers? Yes. Do the complete garden planning with such types.
Mostly gardeners are confused as to which bulbs should be extracted from or left in the soil at the end of the season. This, however, depends upon the kind of bulbs you have — tender or hardy. Those included in the hardy category are amaryllis, tuberose, canna, zepheranthus, crinum etc. Such bulbs could be left in the soil for two to three years and then extracted and separated for the purpose of better growth, performance and propagation. The tender types — gladiolus, nareissus, daffodils, freesia, dahlia etc — are extracted from the soil after they have bloomed and then kept in the cold storage after treating there with fungicides for control of storage diseases.
Gladiolus is an excellent landscape plant that improves the aesthetic look of the garden. It can be grown in flat beds as well as on ridges like potatoes. Interestingly, gladiolus is also used as an indicator plant for detection of environmental hazards. Any flouride content present in atmosphere or irrigation water causes toxicity in the plant depicted by the browning of the leaf tip and the spathe (the sheath).
When being grown for commercial purpose the growers usually advance planting, risking even the corms which get rotten due to the temperature, moisture in the soil and humidity that are conductive to the growth of various fungi. The best time for planting, however, is mid-September to mid-November. A staggered planting at a 7-10 days interval ensures flowering from December to April.
In heavy soils there is a need to add sand so as to prevent cracking of the soil. The soils should allow frequent percolation of water, as otherwise the roots get damaged. In very light sandy soils, add manure in plenty. This will also help conserve the moisture. Gladiolus needs maximum sun. Any shading from building or tree will effect the quality of the bloom.
Gladiolus is shallow rooted, so any hoeing below the depth of 2-4 cm is not advisable as this will cause root injury. Earthing up is done at 3-5 leaf stage. Second earthing up, if required, could be at seven leaf stage. This is to prevent lodging of spikes due to winds. At the time of planting the corms, add one-and-a-half kilogram of single superphosphate and 400 gm muriate of potash in 25 square metre plot. Keep the corms at 20 cm x 10 cm.
Select the variety as per your preference for different colours. Different varieties take different time to flower. Select corms of uniform size, preferably 4.5 to 6 cm diameter. A medium sized corm with high crown, which should be top-shaped would give you larger flowers than those from large flat corms.
Usually the plants show yellowing of leaves which become sickle shaped. There is appearance of brown canker near the neck region of the corm. Treat the corms before sowing by dipping in captan solution. Dissolve 3 gm of captan to a litre of water for 30 minutes and then sow.
Iris is another interesting flower to grow in the garden, in individual bed or near a lily pool in a group. It does equally well in rockery and in shady situations. The rhizomes of iris are planted in October for flowering in March. Iris is excellent for cut flower. The bulbous iris is also planted now, about 10 cm deep.
Lilium species, commonly called lily, is another excellent cut flower. The plant is used as a pot plant, near the pools, on the rock garden, and in various other ways. There are specific types suitable for plains. Liberal watering is needed for best results.
Nargis is successfully grown in beds, pots, small containers for window sill display or under deciduous trees. Planting is done 20 cm apart and 7 to 10 cm deep.
After flowering the bulbs are left in soil and extracted after two to three years. Maybe, you have noticed sometimes that after fresh planting the plant fails to bloom. This is because of the injury caused at the tip of the bulb while extracting. So be careful.