This feature was posted on October 25
From the sublime to the ridiculous
By Ervell E. Menezes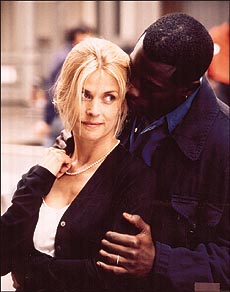 HOLLYWOOD continues to shuttle between the near-sublime and the close-to-ridiculous. For every near-art film they produce they have to turn out thrice as many formula action thrillers. Suddenly , after a lapse of at least three decades, they've decided to pull out Zorro from their closet. Now, on one objects to that. In fact that's the stuff we were brought up on. Remember Robin Hood and Captain Blood or Scaramouche and the Three Musketeers. In the late-1940s and 1950s sword-fencing was meat and drink to Hollywood which reared stars like Errol Flynn, Stewart Granger, Mel Ferrer and company.
But the manner in which they've created the new Zorro film, The Mask of Zorro is rather laboured and far too long. The gag of having two Zorros is clever. Antonio Banderas is the junior one and surprise, surprise Anthony Hopkins the senior one. Newcomer Catherine Zeta-Jones is the ravishingly beautiful damsel in distress. Not knowing that she has been kidnapped as a child she has been brought up as the daughter of the villain Stuart Wilson who is one of the Spanish nobility. That she finally comes to know her real father Anthony Hopkins is very Hindi-filmy but once again it is the manner in which the realisation is projected that makes the film far too melodramatic.
For this scriptwriters John Eskow, Ted Elliott and Terry Ressio must take the rap. And director Martin Campbell does little to minimise the melodrama. Actually the humour is welcome and so are some of the medern touches, like the heroine Catherine Zeta-Jones fencing with the hero Antonio Banderas. Also the exuberant Spanish dance in which the same two figure. But the film is unduly stretched out and whatever element of freshness there might have been has been flogged beyond repair. May be they should be rationing raw film stocks so that future films will be briefer.
Quite a different type of film is One Night Stand which has Wesley Snipes and Nastassja Kinski in the lead roles. Mike Figgis of Leaving Las Vegas fame directs the film which is very cleverly handled. The story is just what the title says and ad commercial director Max Carlyle (Snipes), on a visit to New York, meets with scientist Karen (Kinski) and circumstances (they were mugged, not surprising in New York) leads to them having sex. Actually, the affair would have been forgotten had not the two of them had a chance of running into each other again.
A year later, when Max visits New York with his wife Mimi (Ming-Na Wen) to see his friend Charlie (Robert Downey Jr), who is dying of AIDS, he meets Karen who is the wife of Charlie's conservative brother Vernon (Kyle MacLachlan). The old spark of love glows again. But it is Mike Figgis' handling of the subject that is so deft. Shuttling between the agonies of a dying AIDS patient, and Robert Downey Jr does an excellent job there, and the cross-currents of what is an illicit love affair, it leaves the viewer totally confused. Nay, even devastated.
Is it illicit love at the time of AIDS that Figgis is trying to describe? Does it mean that life is short, make the most of it? Or is it that anything is possible syndrome, in love as in war? The background music is brilliant. Actually Charlie and Karen go to a concert and after that the same orchestra music haunts the viewer throughout the film. Figgis really goes to town on the AIDS subject. It is so scary, it's almost unbelievable. And then the twists and turns in the lives of the two couples are handled most sensitively.
Snipes, who I think is one of the best black actors in Hollywood today, is very convincing as the man trying his best to avoid a break-up and he is adequately supported by the vivacious Nastassja Kinski. She may have gone on in years but can still show that spark of sexiness which brought her into the limelight over a decade ago. It is the competence of these two preformers that virtually overshadows that of the other two players, Kyle MacLachlan and Ming-Na-Wen. And as I've said before Robert Downey Jr is just out of this world.
It is a film which makes you think about the transitoriness of life and the significance of Horace Walpole's words "life is a comedy to those who think and a tragedy to those who feel." It is a mixture of depression and celebration which is what life sometimes is all about. It is good, unusual, unexpected cinema, not the run-of-the-mill Hollywood fare which is quite dispensable.