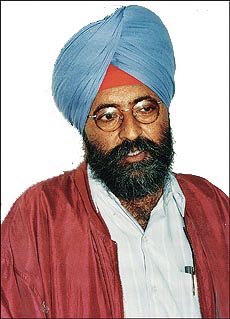 "There are no one-line answers to life"
ATAMJIT'S own life story is dramatic. Punctuated with pathos, this story also exudes a never-say-die spirit. A forlorn boy, his unhappy childhood could have bogged him down forever. Instead, he sublimated his pain and transcended his anguish. When he picks up his pen, flesh and blood characters emerge. They are not inhabitants of a distant fairyland but very much rooted in this earth. Small wonder, his play on terrorism, Seena, evokes a verbal duel amongst the audience. Yet another Rishtayen da kee rakhiyee naan based on Sadat hasan Manto's short story Toba Tek Singh has them moved to tears.
In his latest play Paachnad da paani the (Hindi version of which he read at Tagore theatre only recently) set in the times of the Mongol and Turk invasion, he takes you down the bylanes of history. During this journey back into the past one gets engrossed in the account of valour, treachery, love, adultery, reverence and debauchery. Who is the real sinner in this world? This question echoes throughout the play. But then to tickle your grey cells is the writer's subversive as well as overt intention. Atamjit's plays force a thinking man to introspect. The fountainhead of his creativity stems from an agile mind bristling with ideas that burst forth as a multichannel sea of thoughts. Be it Pooran, Kamloops Diayn Machliyan, Ajit Ram, Sahar Beemar Hai, his plays stand as a testimony to his wide range.
In an interview with Nonika Singh, Atamjit displays an obsessive involvement with theatre as well as a magical wizardy with words.
You say theatre is a social activity, yet insist yours is a theatre of alienation. How do you reconcile this contradiction?
Theatre is not an isolated, individual creative exercise. It involves others — audience, actors, lightman, set designer — so it is a social phenomenon. Through my theatre I am not trying to build up a mass movement where my viewers must shout slogans alongwith me. I want them to search for truth from their vantage point. I abhor the thought of transposing my own conscience on them. Besides, I am not suggesting two-minute solutions.
Otherwise, do you believe that theatre can offer solutions?
(Laughs). Were it so wouldn't theatre become the ultimate panacea, the cure all for ills afflicting society? Simultaneously, if you are addressing a particular issue, as I did in my play Kamloops Diyan Machliyan, (staged in Canada) then you are not only looking at possible ramifications but also need to discuss the probable means to redress the problem. Nevertheless there are no simplistic, one-line answers to complexities of life.
In Kamloops... you talk about the yawning generation gap amongst Punjabi emigrants in Canada. Isn't this a universal subject?
Yes and no. See the older generation in Canada has fallaciously confused religion with culture. Their intransigent stance is not acceptable to the ever-questioning youth who are confounded by the dichotomy between practice and precept.
In the same play you have touched upon the question of communal divide between Punjabi Hindus and Sikhs. Wasn't it a dangerous portent?
Perhaps. But then during my first trip to Canada this divide existed. The tension and animosity between the two communities was more than palpable. While terrorism failed in its objective in Punjab, it successfully managed to draw a line on the basis of religion in an alien nation — thanks to an independent media which showed certain events live. Sadly, there was no counter-propaganda to dispel misinformation from the Indian Government machinery. Today, however, the tension has dissipated to a certain degree.
Canada has been like a second home for you as you have staged a number of plays there. What has the Canadian experience taught you?
It has spoilt me silly. I have come across audiences who are not only willing to shell out dollars to watch my performance but also got so involved that, afterwards, during a radio talk show I was deluged with queries. This insulates you from the ground realities in Punjab. Earlier, I did not mind begging around for grants and sponsorships, but now I find it abominable to ask for favours.
Don't tell me an artist of your calibre too has to look towards others?
Theatre in Punjab is not an autonomous entity. It moves forward on crutches. Now this artificial support-system could be indigenous or imported. Today, in all likelihood, I shall be able to find a patron for my creative output. Still there will be a gnawing sense of obligation towards my "benefactor".
What inhibits the growth of commercial theatre in Punjab?
For theatre to sustain itself, an interplay of two sets of factors — a professional level of theatre and an appreciative audience — is a must. Also, in Punjab neither of them exists. Unlike other performing arts, theatre does not come as naturally to us. Theatre thrives in regions where it is an inextricable aspect of ritual or tradition. In Punjab, despite hallowed claims that theatre dates back to the harappan period, the fact remains that throughout the Islamic rule theatre was frowned upon.
During Aurangzeb's reign even a small child was punished for play acting.
Many a theatre director of Punjab has rued the dearth of Punjabi plays. Is their lament justified?
Yes. We, playwrights, are handicapped. Where is our source of inspiration? Sikhism has obliterated our collective heritage taken away our pan-Indian identity. I find it difficult to get attuned to or relate to our ancient legacy, because it is not a part of my conscious memory. Sikhism has an incredibly rich tradition even dramatically. Each single event, be it the birth of the Khalsa or the travails of guru Nanak Dev, are truly fascinating. But then as per tenets of Sikhism, I cannot portray Sikh gurus in flesh and blood. Tell me how can one make a play absorbing without pivotal, lead characters? Drop this stricture and I promise you plays with a full house.
Are you saying that this diktat is uncalled for?
Yes for one, it goes against the fundamental proposition of Sikhism i.e. monotheism.Then it came about by misinterpreting Guru Gobind Singh's line Natak Chetak Karat Kukaja. Prabh logan ko Aawat Laaja, where I am positive he is talking about deception of character and not drama as an art form. If he were dead against natak (as is widely believed and propagated) why would he name his autobiography Vichitra Natak.
Isn't there enough reference material in our folklore?
The tragedy is our folktales are so linear. The only story that allows some deeper connotation is that of Shiv Kumar Batalvi's Loona which has been repeated ad nauseam.
Even you could not resist this. How was your Pooran different?
See the original story belongs to Qadar Yaar whose was a partisan, establishment view-point. Later Batalvi wrote it from Loona's angle. I always felt that Loona was not merely aiming at consummation of love. So my play is not about unrequited love and passion but about revenge in which Pooran is a mere pawn. In a way, it's a male perspective and I was chided by reviewers for digressing from the feminist approach.
Your mother played a stellar role in shaping your sensibilities. Didn't this special equation help you develop a greater empathy towards women?
(Utters a resounding yes.) In my play scootere which, incidentally, was neither staged nor published but won me the Punjab Sahitya Kala Parishad Award, I have lambasted the male mind-set. Drawing an analogy with cycle, scooter and car, I elucidate how different classes of society view women as objects of utility and ornamentation.
What was the compulsion behind revealing your past and that too so candidly?
Try as much, I could never come to terms with the anguish of my mother who was 25 years younger than my father. I could not get rid of this cross. Talking about it has unshackled me. Sharing my pain with others has been a catharsis but I have not tried to cash in on my trauma or use it for self glorification.
Why are most writers (including you) tempted to claim that their best is still to come?
If they believed otherwise, the creative process would come to a grinding halt. At times I feel whatever I have written to date is mere riyaaz, an experiment of course, the best may never come but then there is sense of exhilaration, a profound joy in rehearsing your lines too.