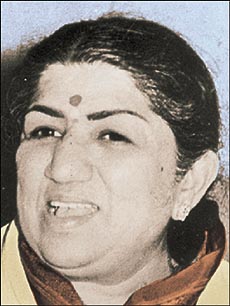 A living legend called Lata
By M.L. Dhawan
LATA Dinanath Mangeshkar was born on September 28, 1929 at Indore in Madhya Pradesh.According to her birth sign, she was required to be called by a name starting with the letter "H".She was named Hema but her father fondly called her Hridaya.
She had no formal education. She went to school just for two days. On the first day she was complimented for her melodious voice but on the second day she took tiny Asha with her. She was reprimanded by her teacher, "this is a school and not a crèche". Lata was infuriated. She picked up Asha and left the school in a huff never to return again.
She had musical inclinations right from the time she was a child. Once after watching K.L. Saigal's Chandidas she unabashedly declared that she would marry Saigal when she grew up. So enamoured was she of the singing Saigal.
Lata was barely 12 when her father Master Dinanath Mangeshkar, a singing sensation of the Marathi stage, breathed his last. Lying on his death-bed, he said to her, the eldest of the five children, Except for this tanpura, those note books filled with classical music and songs, I have nothing else to leave for you'. No father could have given his daughter more.
Lata still remembers with dismay those days when she had to commute alone at odd hours by the suburban trains to reach recording studios during the early phase of her career. At the age of 13 she gave her first playback in 1942 in a Marathi film Kiti Hasal. Unfortunately, the song got deleted from the film. Later on, Dadda Javjekar's composition Pa lagu kar a thumri in Vasant Jogelkar's Aap Ki Sewa Mein released in 1947 marked her debut as a playback singer. With Ghulam Haider's Majboor the Hindi film industry took notice of the new singing star that had arisen on the horizon.She also did small roles in Hindi films like Badi Maa (1945), Jeevan Yatra (1946), Subhadra (1946), Mandir (1948) and Chhatrapati Shivaji (1952). However it was with Madhubala singing Khemchand Parkash's best masterpiece Aayega aayega aanewala that Lata hit the bull's eyes. After she never looked back.
Of course, it was not roses all the way for Lata. There were doubting Thomases. S. Mukerji rejected her for Dilip-Kamni Kaushal starrer Shaheed arguing that her voice was too thin and shrill. Even Dilip Kumar expressed doubts about a Maharashtrian girl getting her Urdu pronunciation right.
Lata proved her detractors wrong. She overcame her Urdu pronunciation obstacles by constant practice. Her Midas touch turned her compositions into gold. Her songs made actresses like Madhubala, Nargis, Nutan, Geeta Bali, Bina Rai, Nalni Jayant, Nimmi, Shakeela, look far more beautiful and impressive than they actually were. With her melodious and melifluous voice even numbers of little known composers attained respectability. From the very beginning, she had "class" written over all her songs.
Lata developed a great and intimate rapport with the leading music directors of the day like Khemchand Parkash,Sajjad Hussein, Jamal Sein, Bilu-c-Rani, Vinod, Sham Sunder,Naushad, Anil Biswas, S.D. Burman, Madan Mohan,Shankar-Jaikishan, Kalyanji-Anandji, C. Ramchandra, Ravi, Roshan, Khayyam, Chitragupt, Ghulam Mohammad, Hussunlal Bhagat Ram etc. "As long as Lata is there, I am safe" S.D. Burman had remarked. Naushad exploited Lata's talent in films like Shabab, Aaan, Amar, Uran Khatola, Deedar, Baiju Bawra, Mughal-e-Aazam. Lata enjoyed a special relationship with her Bhaiyya Madan Mohan as is obvious from the haunting melodies like Badi barbadian lekar meri duniyan mein pyar aaya, Chand madham hai aasman chup hai, Un aankhon mein neend kahan jin aankhon sey preetam door basen, Tum ho saath raat bhee haseen hai, Ab to maut ka bhee ghum nahin hai, Bairen neend na aaye, Yun hasraton key daag mohabbat mein dho liya, Unko yeh shikayat hai ke hum kuchh nahin kehtay, Jana thha hum sey door, Lag ja galey, Aap ki nazron ney samjha, Ruke, ruke sey kadam. She rendered a total number of 453 songs in 124 films for Shankar-Jaikishan.She still vividly remembers the recording of the famous Barsaat song Barsaat mein tum sey miley hum which was finally recorded in the wee hours of the morning after whole night rehearsals.
Raj Kapoor regarded Lata as a reincarnation of Goddess Saraswati. Forty-six years after she sang that evergreen number Laralappa, laralappa lai rakhda (Ek Thi Ladki) — Lata was able to come up with Jiyajale, janjale naino taley. Different times, different tunes, different compositions, different style, different yardsticks and different listeners— only Lata Mangeshkar and her melodious, melifluous and captivating magnetic appeal is the same.
For more than five decades now Lata has the whole world mesmerised by her voice. No singer had had such a long reign as Lata who even today at 69 sounds convincing singing songs like Arre, arre yeh kya hua koi na pehchana. From bhajans to mushy love songs Lata artfully captures the mood and imagery of the lyrics. An added asset is her sensitive nature which helps her to understand the feelings in a song. Rasik balma dil kyon lagaya tosey dil kyon lagaya, Dukhiarey naina dhonndey piya ko nis din karenpukar, Phailee huee hain Sapno ki bahen aaja chal den kahin door, Na milta ghum to barbadi key afsaney kahan jatey, Dheere see aaja ri ankhiyon mein nindiya aaja ri aaja, Bindya chamkey gee, Morni bagan mein boley aadhi raat maan, — different types of songs sung in the style typical to the heroine singing on the screen, that is Lata magic for the music lovers.
Over the years the music connoisseurs have been eloquent in describing the singing phenomenon only to realise to their dismay that they have not been able to measure upto her colossal stature. Miracle she is.
In her case simply listening is believing. Eliminate her from the film music and you end up eliminating music itself. Without her four octaves spanning honey-sweet voice, our composers could not have given their musical imaginations free rein.
Whether it is an intricate classical number like Man Mohana bade jhoote or a pure lyrical gem like yoon hi koi mil gaya tha sar-e-raah chaltey chaltey — Lata renders them with equal limpidity. Backed by that supertalent, she is the most powerful woman the industry has ever seen. She has waged a battle royale with such big names as Rafi,Raj Kapoor, S.D. Burman, Shankar-Jaikishan and never had to kowtow.
Respect she has commanded, persona she has built and popularity she has earned. If there is an artiste who has been bestowed with affection, admiration, allegiance and enjoyed nationwide following, it is the living legend Lata Mangeshkar. Talat Mahmood rightly summed up her talent saying, "Usually, it is an artiste who follows the art, but in Lata's case, it is the art that follows her."