A movie worth watching
By Ervell E. Menezes
LOVE and marriage, they said in the old days, went together like a horse and carriage. Today it's more like marriage and divorce following each other. Be that as it may, there are two delightful Hollywood films in which the key characters are about to get married. But somehow they run into all kinds of obstacles which contribute to the success of the film.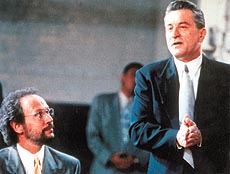 In Analyze This it is the psychiatrist to the mafia don-to-be who is heading for his second marriage but is constantly pestered by the suddenly-nervous mafia man while in Forces of Nature you have this writer flying from New York to Savannah for his wedding when his plane runs into trouble and he finds himself companion to a charming but very-much married young woman. Chances are he'll never make it to the altar in Savannah.
After the load of conveyor-belt manufactured mafia films ranging from the good to the bad and ridiculous it is good to have a great spoof like Analyze This it is simply hilarious. Take the premise of Paul Vitti (Robert De Niro) suddenly getting the shakes, virtually cold feet when he has to take a decision or go into action. Naturally it spells disaster for his clan. Hence, the SOS for a shrink.
Ben Sobol (Billy Crystal), the shrink, is a complacent guy unlike his media-seeking pretentious, society-animal father and wants nothing more than a second marriage with his faincee (Lisa Kudrow) and a quiet life with her and his young son (Kyle Sahiby). It seems possible till he bumps into Vitti's car and from then the prospective don virtually invades Sobol's life.
The casting is brilliant. De Niro has been brought up on mafia films since The Godfather and Billy Crystal is a natural comedian who is impeccable as the reluctant shrink. And yet, something inside fascinates Sobol when he meets the mafia man. Can he handle the situation.
In the case is also Chazz Palminteri who wrote the play which was converted ito De Niro's debut as director, A Bronx Tale Palminteri plays rival down Sindone with Joseph Viterelli as Vitti's bodyguard. Viterelli is a hunk of a man seen in a number of mafia films. But for a film like this to succeed you need type-cast players like De Niro to deviate from their regular roles. One has to introduce an element of humour. Imagine De Niro crying?
But the part calls for it an De Niro manages to put it across rather bravely. The subject is handled perfectly by director Harold Ramis who is in his element in comedies. Peter Tolan's screenplay helps and the 1950s ambience is graphically captured with the Buicks and Chevrolets and of course the music with songs like When You're Smiling and that Dean Martin favourite Inamorata.
May be all this unusual stuff will keep the viewer wondering what the climax will be and may be it's a wee bit of a let down but that hardly matters. Most of the action is simply ribticklingly funny. The surfeit of one-liners will keep you guffawing. The title, no doubt, is addressed to the viewer who is sure to wonder if he is to believe what he is seeing. But see it you must. Not in a long, long while has there been such a delightful spoof.
Forces of Nature is somewhat different in that this bitter-sweet story has serious undertones for while you laugh your guts out at the situation it is a rather caustic comment on the institution of marriage which takes quite a drubbing.
It has shades of Six Days, Seven Nights where nature is instrumental in thwarting a prospective bride from her wedding, here it is Writer Ben (Ben Affleck) who meets with Sarah (Sandra Bullock). The catchlines scream "He went from the eye of a storm, into the arms of a hurricane."If the crash (not very serious) was the first mishap it is not the last. Others follow and this "on the road" film is full of saucy situations that raise uninhibited laughter. It is an age-old subject of two people thrown together (not on a deserted island, this time) getting to know each other better. But the treatment is contemporary and the final twist keeps one thinking long after the curtain comes down.
The film begins with a bachelor's party in which Ben's dad gets a heart attack due to the over-excitement caused by the stripper. When Ben visit his father in hospital his dad gives him a few home truths like "even if you love a woman, it fades." "Not surprisingly, this advice has a bearing on the bridegroom. "If you expect marriage to last forever think of lighting a candle and expecting it to burn forever," says another. All very discouraging for a man about to take the plunge.
The first half is rather predictable and it is the one-liners that make up for the predictability but director Bronwen Hughes does well to balance the film on a knife-edge between comedy and pathos. He is also aided by a brilliant performance by Sandra Bullock who seems to be going from strength to strength in each film. If she was great in The Net she is even better in this one and good though Ben Affleck may be he surely suffers by contrast looking rather stiff in some sequences.
The bonding of the sexes too comes across strongly with bestman Steve (David Strickland) and bridesmaid Debbie (Meredith Scott-Lynn) sticking to their respective friends. There are good cameos by Blythe Danner and Ronny Cox as the parents of the bride who are put to a good deal of embarrassment. There may be a few lulls but all in all Forces of Nature is both hilarious and thought-provoking. It make one think of Horace Walpole said "life is a comedy to those who think and a tragedy to those who feel."