Nothing succeds like Satya
By Madhur Mittal
NOT satisfied with a couple of statuettes, Manoj Bajpai has gone on to win the National Award for his performance in Satya. Come to think of it though, the award is for the 'Best actor in a supporting role', when it was Bhiku Mhatre who was the life and soul of the film that crackled the cash counters all over the country!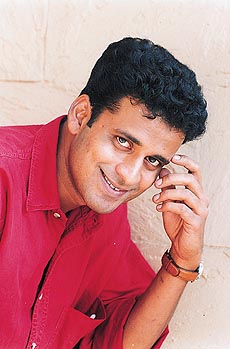 After Satya Manoj got umpteen offers of similar tapori roles. The level-headed actor however, resisted the temptation and accepted less than a dozen films. "I have never been that desperate or impatient," he says with a grin. "And when I am getting the kind of roles I want, what's the use of this needless signing spree?" The perfect professional that he is, Manoj wishes people would keep Satya aside and talk about his performance in Kaun, which though an average grosser, gave him a very "challenging role".
Next on this extremely modest but immensely talented actor's agenda are films like Shool (where he plays a cop), a Shyam Benegal film with Rekha, Kumar Mohan's Ghaath, Rakesh Mehra's film with Amitabh Bachchan (where his role has negative nuances) and some more interesting projects. In fact, in Shool, Ghaath and even Mehra's film, his leading lady happens to be the ravishing Raveena Tandon. Just a happy coincidence or is it deliberate? Well, our friend Manoj just blushes, grins and blushes some more. Need we ask more?
Movie of millennium
The first movie of the coming year is going to be J.P. Dutta's Refugee. With an enviable starcast — Abhishek Bachchan, Kareena Kapoor, Jackie Shroff, Sunil Shetty, Reena Roy (I'm out of breath already!), Amrish Puri, Pramod Moutho etc. — Dutta is all set to complete the shooting of his film by September so that the post-production work can be completed by year end.
The industry can start the new millennium on an optimistic note with a film by one of the industry's most gifted directors.
Stepmom re-cycled
It's the age of recycling and if film-makers thrive on recycling films, it's because of their awareness of the times we live in. So why such a fuss over copying aping et al?
Even Devgan Art's latest presentation Dil Kya Kare is a remake of Hollywood's Stepmom. While Ajay has roped in wife Kajol for Julia Roberts' role, it's Mahima Chaudhary who plays the mature Susan Sarandon's part. Is Mahima really getting older or only wiser? After all, it couldn't be easy or even very comfortable paying second (and older!) fiddle to an actress of Kajol's calibre!
Mahima's obsession
While on Mahima, it seems she is on a heavy trip of films with two heroines. In our films where even one heroine doesn't have much to do, sharing the marquee couldn't be a very nice feeling.
After Dil Kya Kare, Mahima has Deewane with Urmila Matondkar and Boney Kapoor's Hamara Dil Hai Aapke Paas with Aishwarya Rai. And I'm sure by the time this appears in print she'll have signed up for a couple more!
Rumour has it...
...that Sawan Kumar Tak is thinking of Changing the title of his film Mother'98 to Souten No. 1. Rather inspiring!
...that Sanjay Dutt will play Hrithik Roshan's father in Mission Kashmir.