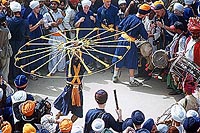 We thank our readers for the overwhelming response to our interactive Caption Contest feature. Due to the volume of the e-mail messages received, we are unable to publish all the captions and only post a representative selection. Often a number of persons send similar messages. In such cases only one message is posted.
Dear Readers,
Due to a technical problem, we have not been able to receive your responses to the previous week's Interactive Caption Contest. The results will be posted as soon as possible.
We thank you for the way in which you have responded to this feature and regret the inconvenience caused to you.
Editor