The house where Keats lived
By Shona Adhikari
ON a recent visit to London I discovered purely by chance that the romantic poet John Keats, had lived in a cottage that was walking distance away from where I was staying. I remembered reading his poems over and over again in my teens, enchanted by the way the words were strung together, and the chance to see where Keats had lived through his most prolific years, was not to be missed.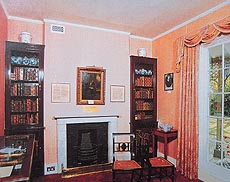 I managed to locate Wentworth Place, but having reached at noon, discovered that the gates would only open at 2 p.m. I decided to explore the area, and take in a cup of coffee and a sandwich. I discovered that the area was full of Keats and his contemporaries. There was a 'Byron's Mews', and a cafe named 'Byron' The area around Wentworth Place was also named 'Keats Grove'.
Walking up and down the High Street had made me both hungry and thirsty. Being a bright and sunny day, 'The House', a lively cafe on Rosslyn Hill, had set out chairs and tables on the sidewalk, and I spent a pleasant hour watching the comings and goings of posh Hampstead — now considered one of London's most upmarket areas. As there was still time to spare, an old unused church round the corner, offered interesting views to photograph. More people had collected the time Keats House opened, and there were now over 10 of us waiting to enter. We were all disappointed to learn that Camden's Health Library, located next door, and said to contain many of the poet's published works, was only open Thursday to Saturday — unluckily for all of us we were visiting on a Tuesday!
Wentworth Place was a neat house, partly two-storeyed — originally two semi-detached cottages, the newer additions by subsequent owners were single-storeyed. The most interesting part of the facade was the Cerulean blue painted front door in splendid contrast against the white walls and the tiled sloping roof. Ancient trees and bushes filled the garden, and the glass-paned conservatory full of hothouse blooms at the back, made the view of the back of the house more pleasant. Garden seats placed in the back gardens invited visitors to sit for a while and appreciate the atmosphere that had inspired so many wonderful verses.
A placard placed on the right of the front path, indicated the site of a plum tree in which a nightingale had made its nest. It was on this tree that right through a warm summer a nightingale had raised its voice in song, inspiring Keats to write one of his most lyrical poems — immortalising the bird forever in an Ode to a Nightingale The original plum tree long died, but a new one had been planted in its place by the trustees. The house now under the National Trust ensures that the garden, and the house, is kept much as they had been at the time that Keats lived there as well as the additions made by the last owner, a retired actress Eliza Chester. A former actress at the Theatre Royal, Chester was much admired by the Prince Regent, and it was she who combined the cottages into one house, and added a new drawing room for entertaining her important friends.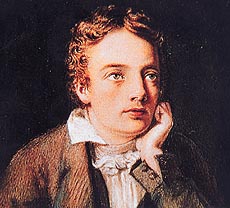 John Keats, the eldest son of Thomas and Francis Keats, was born on October 31, 1795. He had two younger brothers George and Tom, and a sister Frances Mary. Thomas Keats was killed by a fall from his horse in 1804, and his wife died in 1810, leaving four orphaned children. Keats was 15 and the youngest Frances, commonly known as Fanny, was only seven when their mother died. Their maternal grandmother Mrs. Jennings, appointed John Nowland Sandell and Richard Abbey as their guardians, providing funds for her four grandchildren, to be held in trust till they came of age.
Keats left school in 1810, and was apprenticed to a local surgeon, Thomas Hammond, joining Guy's and St. Thomas hospitals as a student in 1815, and acquiring a licence from the Societies of Apothecaries in 1816, at the age of twenty-one. Attracted to poetry from his school days, he abandoned all ideas of earning a living as an apothecary, or of continuing his training to qualify as a surgeon. Keats' verses had already attracted the attention of prominent critic Leigh Hunt, who had published his sonnet To Solitude in his paper The Examiner.
Leigh Hunt's home in Hampstead, was the meeting ground for poets, and artists, and it was there that Keats met other poets of his time — P.B. Shelley and John Hamilton Reynolds. Here he also met painters Benjamin Robert Hayden and Joseph Severn. The latter remained a friend and admirer for life, and it is mainly through his many portraits of John Keats, that the world knows what this great poet looked like.
Keats' first volume of poems was published in March 1817, but the sales were small and the publishers were not impressed either by the author or by his work.Fortunately Keats found another publisher, John Taylor, who struck by he young poet's character and talent, wrote in one of his letters "I cannot think he will fail to become a great poet". Taylor remained firm in his commitment to Keats, and continued to publish his works till the end. Keats, due perhaps to his ill health would sometimes fall into morbidity and fits of 'Miltonish gloom', but Taylor's encouragement was unwavering.
The two semi-detached cottages that became known as Wentworth Place were owned by Charles Wentworth Dilke, a civil servant and literary critic, and Charles Armitage Brown, who had retired early, and supplemented his income by writing. A lifelong friendship was struck up between the three, and Keats took up lodgings at Brown's cottage — here he had a bedroom and a sitting room, which may be seen today almost exactly as he left it.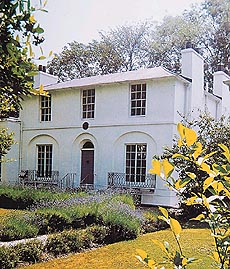 Keats was very conscious of his small of stature, being only five feet and one inch tall. He developed a great affection and became engaged to Fanny Brawne, whose widowed mother and her three children had moved in as tenants at the Dilke cottage in 1818. At the time Fanny was a petite and vibrant 18 year old, and her charm and liveliness made her extremely attractive to Keats, but they were destined never to marry. Keats died in Italy in 1821, after a long sea voyage undertaken for reasons of health, and when the news reached Fanny, she went into mourning for four years. It was another eight years before she married Louis London and her miniature portrait, painted at the time of her marriage in 1833, may be seen displayed in the Brawne rooms at Keats House.
Keats' brother Tom had died of consumption, and the same disease was to plague Keats throughout his day. Financial difficulties compounded the problem, but Keats was always fortunate in having the most devoted friends that anyone could wish for. Friends with whom he was able to share his thoughts, his working hours, and holiday with and most importantly who supported him devotedly through his days of ill health.
In his last days, the doctors advised Keats that his only hope lay in spending the winter in Italy. His devoted friend the painter Joseph Severn accepted the arduous task of going with him to Rome. His friend and publisher John Taylor collected the money necessary for the voyage and expenses in Italy. Keats left Wentworth Place for the last time on September 13, 1820, The journey to Naples by ship was long and painful, and though Severn nursed him devotedly, Keats died on February 23, 1921. He lies buried at the Protestant Cemetery in Rome. His epitaph, one of his own choosing, says: 'Here lies one whose name was writ in water'. As desired by him his name was not inscribed on the grave.
Keats' House full of memorabilia, is a place for all those who have been privileged to read his poems, and for whom his verses have meaning to this day. Fragments of his poetry come to mind as one wanders around the charming rooms. Thomas Hardy, on visiting Wentworth Place in 1920 was moved to write the poem, At a House in Hampstead. His original hand-written poem, so totally appropriate, may be seen at Keats' House.
O Poet come you haunting here
Where streets have stolen up all around
And never a nightingale pours one
Full throated sound?