IN PASSING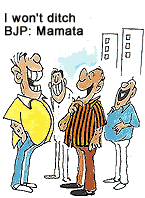 I don't know about the mahajot but Indian politics is certainly a maha joke.
By Sandeep Joshi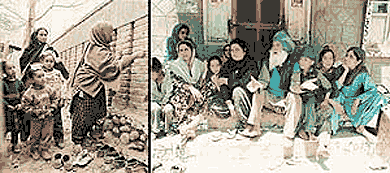 Relatives of victims point at bullet marks on the wall in front of which 35 Sikhs were lined up and shot on March 20 at Chattisinghpora; (right) Baldev Singh (85) with his two widowed daughters-in-law and grandchildren. Two other widows are also seen in the picture. — photos by Amin War
Chattisinghpora revisited
Crops await harvesters
CHATTISINGHPORA (Anantnag), June 2 — The eloquence and smiles of Balpreet Singh, a six-year-old cannot unravel what had happened on that fateful Holi eve, when his father, Darbari Singh, was among 35 Sikhs mown down by unidentified gunmen in this remote village.
Anandgarh petition
Two officers clarify
CHANDIGARH, June 2 — The DIG, Patiala Range, Mr Sanjiv Gupta today denounced as "outrageous" and "mischievous" an allegation that he owns 100 acres of land in the area of the proposed Anandgarh scheme near Chandigarh.
EARLIER STORY (opens in a new window):
4 IAS officers named
EARLIER STORIES
(links open in a new window)
Speight may be part of govt
June 2, 2000
Speight supporters go on rampage
June 1, 2000
Nailatikau named Fiji PM
May 31, 2000
Military takes over in Fiji
May 30, 2000
Gunshots near Mara's house
May 29, 2000
Prabhakar produces videotape as 'evidence'
May 28, 2000
15 ultras die in two operations
May 27, 2000
Speight rejects chiefs' plan
May 26, 2000
India, USA oppose Tamil state
May 25, 2000
India ready to evacuate Lankan troops
May 24, 2000
10 more companies for Tripura
May 23, 2000
NLFT on killing spree, toll 45
May 22, 2000
Cut subsidies, PM tells states
May 21, 2000