IN PASSING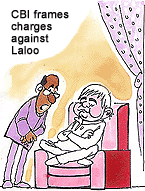 Sir, after Misa, you should rename one of your daughters CBI !
By Sandeep Joshi
BJP's bid to checkmate Badal
CHANDIGARH, June 10 — The Punjab unit of the BJP, an ally of the Shiromani Akali Dal (SAD) in the State Government, has come out in open to checkmate the Chief Minister, Mr Parkash Singh Badal, on the power tariff hike issue.
Govt to auction 5 million tonnes of wheat
NEW DELHI, June 10 — The Centre today decided to auction five million tonnes of wheat in Punjab and Haryana, give commodity loan to SAARC countries and barter with needy nations.

Case registered, but peacocks missing
CHANDIGARH, June 10 — Though the Wildlife Department authorities have booked Mrs Malwinder Kaur and her servant Jai Singh, residents of Lohgarh village near Zirakpur, under various sections of the Wildlife Protection Act-1972 they (authorities) have failed to seize the peacocks, the vital case property.
EARLIER STORY: Villager cages 40 peacocks
Of love across seas & murder
Ludhiana, June 10 — The murder of a Canadian citizen and the attempt on the life of her Indian husband allegedly by contract killers hired by her family, sore over of her love marriage with a boy of a lower socio-economic status, has once again raised a big question mark over the claims of having ridden society of any socio-economic discrimination.
EARLIER STORIES
(links open in a new window)
Harpreet Kaur's death: HC orders CBI probe
June 10, 2000
No rift in NDA on Lanka: DMK
June 9, 2000
Lankan minister among 22 killed
June 8, 2000
Govt firm on Lanka unity
June 7, 2000
Kol dam work gets going
June 6, 2000
USA, Russia agree on plutonium cut
June 5, 2000
PM announces Rohtang tunnel
June 4, 2000
11 killed in J&K blast
June 3, 2000
Speight may be part of govt
June 2, 2000
Speight supporters go on rampage
June 1, 2000
Nailatikau named Fiji PM
May 31, 2000
Military takes over in Fiji
May 30, 2000
Gunshots near Mara's house
May 29, 2000