Model TV star
He seems to have signed a long-term contract with good fortune. After lording over the modelling scene for almost a decade, Milind Soman is fast becoming a high in-demand star on the small screen.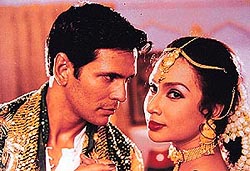 After his somewhat lukewarm entry, Soman has transformed into a most wanted TV star with serials like Tanha, Seahawks, Deewarein and Noorjahan.
"Acting comes naturally to me," says Soman and adds, "what I am really looking for are challenging roles which test me as an actor. Soft roles don't excite me." But he is also aware that challenging roles are rare to find on television. That's why perhaps he is turning to the big screen. He has great hopes from his debut film Tarkeib in which he co-stars with Nana Patekar and Tabu.
"That's the kind of roles I am looking for on TV as well," says Soman. Is any serial producer listening?
Village sports
With DD sports having failed to live up to viewers' expectations, other channels are moving in swiftly to fill in the gap and rake in the moolah.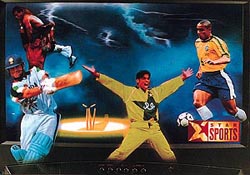 Take for example Star Sports. The channel has introduced a special scheme for remote rural areas across the country. Introducing the scheme the managing director of ESPN software said," Star sports has become the first pay channel to offer a scheme for rural TV audiences. The rural cable networks will now be available all over India."
Under the scheme, Star sports will offer a complete yearly package for rural cable networks. The package includes the cost of hardware and subscription.
As in most other cases it is DD's loss and another channel's gain. Given its reach had DD Sports provided quality fare no other sports channel would have stood a chance.
But given the chalta-hai attitude at Mandi House, the market is up for grabs. And the huge rural viewership has been hijacked right from under DD's nose.
Mika magic
When he first arrived on the scene, some thought he was an Assamese singing Hindi love songs. Others mistook him for a balladeer from Bengal. Little did they realise that Mika was a thoroughbred Punjab-da-puttar.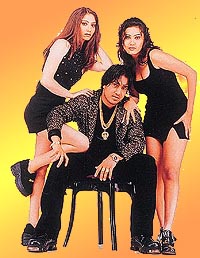 And being the younger brother of the yoddelling Sikh, Daler Mehndi, he had the right musical credentials. Though Mika's first pop album,Saawan Mein Lag Gayee Aag did not exactly set the music channels on fire, he is now riding high the wave of success that has greeted his second album, Ishq Brandy.
Despite a low key launch, Ishq Brandy is said to have had heady sales in the first few weeks thanks to the title song's video which is being played frequently on music channels.
Mika says that music, however original, is not all that it takes to race up the charts. The publicity, videos and image management deserve much of the credit for the success of an album. Which is what he has proved with his new album.
The great race
This is undoubtedly the world's toughest expedition race. It requires teams of four people to complete a 318 km course comprising kayaking, horse riding, trekking, whitewater and mountaineering. Each team decides when to sleep and for how long.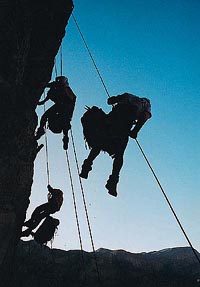 Participants in the recent Discovery Eco Challenge experienced such breathtaking sceneries of Patagonia in Argentina, that tourists cannot even contemplate. The 204 racers battled high winds that turned calm lakes into choppy seas, a freak blizzard that left many stranded among the spires atop the Andes Mountains and bamboo forests so dense they couldn't see their teammates ahead of them.
The race begins with lake kayaking as competitors battle lake winds. From there, they drag their kayaks up steep hills and then swim across a river to mount their horses for a 40-km ride across the famous golden grasslands. Then they trek until they reach the steep cliffs of the Andes.
The drama of this multi-day adventure race will soon unfold on the Discovery Channel. The programme captures the action as teams test their physical and mental limits while attempting to conquer the land and cross the finish line.
Elephants at sea
On Andaman Islands in the Bay of Bengal, elephants are revered in mythology and exploited for their power, intelligence, and ability to swim.
Ancient myths told of elephants that lived in the clouds and sea. Scientists have found that the world's largest mammal may have lived a largely aquatic existence.
The Swimming Elephants on the National Geographic Channel explores the world of elephants and concludes that they are more closely related to sea cows than any other animal.Gracefully paddling through the blue waters of the Andaman, the elephants display remarkable versatility. It is their strength and intelligence that has supported the island timber industry.
Well-trained elephants can respond to about 40 command words. Some mahouts believe that they can understand speech and sense a person's mood with remarkable perception. In Andaman the mythic swimming elephant has become a reality!
— Mukesh Khosla