IN PASSING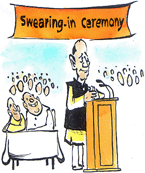 To please everyone we have two posts of Deputy CM, four asstt CM, six joint CM and nine additional CM.

Warrant issued for Bhutto's arrest
ISLAMABAD, Oct 28 — A Pakistani court has issued non-bailable arrest warrant against former Premier Benazir Bhutto for failing to appear before it to answer corruption charges, court officials said today.

Pakistan closes skies to USA
Attack likely on Laden
KARACHI, Oct 28 (Reuters) — Pakistan today said it would not allow the USA to cross its airspace to attack Afghanistan-based Osama-bin Laden, the Saudi militant accused of attacking US targets.

Pvt grain stores in Punjab
BATHINDA, Oct 28 — To overcome the problems of procurement, lifting and storage of foodgrains, the Punjab Government has started the exercise to create additional storage capacity for the grain.




Farmer commits suicide
DHURI, Oct 28 — Another paddy grower has ended his life this paddy season after his failure to sell his paddy and alleged harassment by arhtiyas.
EARLIER STORIES
(links open in a new window)
Jyoti Basu to quit on Nov 7
October 28, 2000
Rajnath invited to form govt
October 26, 2000
Rajnath to replace Gupta as
Uttar Pradesh CM
October 25, 2000
ULFA militants massacre 15
October 24, 2000
Advani rules out talks on J&K
October 23, 2000
2 BSF jawans die as IED explodes
October 22, 2000
Power panels must for incentives
October 21, 2000
17 militants killed in J&K
October 20, 2000
12 top militants surrender
October 19, 2000
Israel, Palestine agree to end violence
October 18, 2000
5 Pak soldiers shot, attack repulsed
October 17, 2000