Celebration time
It was a night of the stars who glittered like never before. They were on the biggest ever show on television with a Bollywood legend for a host.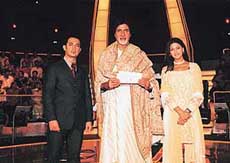 It was a special Diwali Kaun Banega Crorepati with a line-up of stars including Aamir Khan, Sonali Bendre and of course, host of the show, the Big B.
Now with a number of other channels putting up their own game shows, Star Plus has turned on the heat and is going ahead with innovations to keep its viewers glued to KBC.
The heartening news according to a KBC insider is that Madhuri Dixit is not hosting Sawal Dus Crore Ka — Zee's response to Star Plus. Though Anupam Kher is a gifted actor and a glib talker, he may still find it hard to match the stature of Bachchan.
Added to that is a real-life crorepati in Harshwardhan Nawathe which has given the show a new impetus. Which perhaps explains why Diwali was so special at Kaun Banega Crorepati.
Pooja's small screen affair
"Television is not such a bad thing, really. Even Amitabh Bachchan has taken to TV. And look at the heady success of Kaun Banega Crorepati, says Pooja, who was recently interviewed on Star Talk by Vir Sanghvi.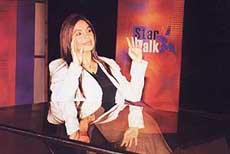 True. The lady has had a fascination for the small screen ever since her days as a model. A decade later, today she is the producer and lead star of the currently-on serial Dhund on Star Plus which has loosely been inspired by Wuthering Heights.
Besides films and television, Pooja has diversified into newer areas. She recently set up a new company., Fish Eye Network where she would identify and help give a break to talented newcomers on TV and films.
"I am happy doing stuff on TV", she says. "It's more challenging. You have to be spontaneous, witty and presentable, all at once. At times there may be no re-takes". And considering her bindaas attitude, there have been no re-takes in Pooja's real-life as well!
The Queen of Hearts
"Fad", they sniggered. "Flash-in-the-pan," they hooted. Yaad Piya Ki Aane Lagi was just a case of being first-time lucky". But Phalguni Pathak had a back-to-back hit with Maine Payal Hai Chhankai.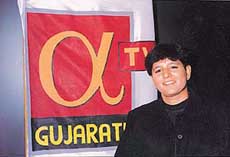 And now she's having the last laugh with Meri Choonar Udd Udd Jaye. She has zoomed up the charts and grabbed the number one position from the word go.
Such has been the overwhelming response that MTV, Channel V are atlast acknowledging its instant popularity thanks to its resplendent video. She has created a very young video, with all action happening around a picture hung in a young girl's room.
The title of the Dandiya Queen was recently acknowledged by Alpha Gujarati when it presented, Raas Garba 2000 with Phalguni Pathak in a Navaratri celebrations special.
With her band Ta Thaiyaa Phalguni regaled thousands of Navaratri revellers in a high-powered performance, accompanied by a dazzling array of lighting. By the end of the event it was clear why this singer is a musical treat for the senses.
An all-time classic
A group of British POWs are forced to build a bridge for their Japanese captors. That forms the basis of one of greatest films, Bridge on the River Kwai airing 10 p.m. October 30.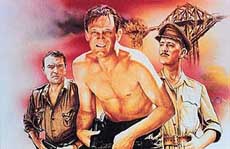 It is Burma, 1943. A British soldiers' battalion is captured by Japanese and send to a labour camp where they are forced to build a strategically important railway bridge over the River Kwai.
The British Commanding Officer, Colonel Nicholson, insists that officers, according to Geneva Convention, should not be made to labour. But Colonel Saito of Japan has no regard for rules.
Colonel Nicholson displays unyielding courage when he agrees to gather his men to build the bridge. And soon succeeds in making its success a matter of obsessive British pride.
Neither the POWs nor their captors know that the British High Command is sending a few soldiers to Burma to destroy that very span, and the bridge that is being built by their own men.
Starring Willian Holden, Alec Guinness and Jack Hawkins, the movie which will keep you glued from the word go. Don't miss it.
— Mukesh Khosla