New direction
He tried his hand at theatre, television and even ads. But hardly anyone noticed him. Till the time Bollywood coughed up Satya and 'Kallu Mama' became a part of the film folklore.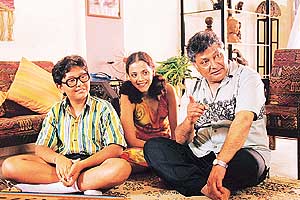 What followed was more films and similar characters. And despite getting a starring role in Hey Ram Saurabh Shukla has found it tough to come out of the loop. Now he has donned a new avtaar — of a director on the Zee TV's Little Mirchi, Thoda Pepper.
"I always wanted to direct films or serials but I was so busy with films and never really got a chance to direct till Little Mirchi came my way", says Shukla.
The chance came when wife Varnali, co-producer of the serial, discussed the choice of directors with him. "I loved the concept and wanted to do it myself," says Shukla.
The serial is about the opressed male. Says Shukla, "We've a range of age-groups and in each we discuss the difficult situations that men face in life." Something he should know well having been around in Bollywood long enough.
Rising star
She has cut across channels and is featuring in major soaps and serials on Star Plus, Zee, Doordarshan and Sony TV. All in a matter of two years.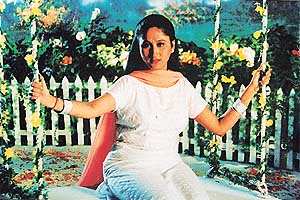 Poonam Narula's pretty face has lit up serials like Itihaas, Saath Saath, Lekin and many more. She says it's a combination of hard work and a flair for acting. "I have to thank God for my success." And she can also thank Ekta Kapoor whose Balaji Production has giving her a number of starring assignments. Her first big break came with Kapoor's Mano Ya Na Mano and since then she hasn't looked back.
Whether playing a young lady in search of her lost mother in Kanyadaan or a woman married to a cruel taxi driver in Lekin, Poonam has done a variety of roles.
A commercial artist by education, Poonam did a course in acting from Preeti Ganguly's academy and hasn't looked back since then. Two years down the line, her fan mail could keep a small post office busy.
Baywatch on wheels
Lush blue ocean and white sands — a perfect sun-kissed playground for the idle rich. But every paradise has its criminals. So, who do you call for help? The Santa Monica Bike Patrol, of course.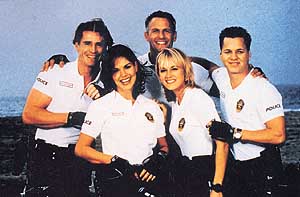 Described as 'Baywatch on Wheels', Pacific Blue on AXN September 24, 9.30 p.m. features action and thrills on the beat with Los Angeles' bicycle cops. It is all about the nineties version of big city beat cops with a twist — they're all on bicycles.
Always ready to step in to monitor and stop rough play and go after seedy characters, Santa Monica Bike Patrol is at hand to keep this sunny beach free of crime. Expert bikers operate in places that police cars and helicopters cannot access. The members of the Bike Patrol are chosen for their physical strength and courage. The only weapon is their daring and determination to fight lawlessness.
Pacific Blue shot on location on the California beach is a thrill-a-minute programme about a unique law force whose exploits are now being recognised the world over.
Sin and sinners
How does a normal human being turn into a pervert? Do people's genetic codes predispose them to sin, or is the environment in which they are raised responsible? Discovery Channel uncovers the science behind human weakness with Science of Sin September 24 at 9 p.m.
Humans crave to break away from the monotony of daily life. But how much excitement is within reason? The "seven deadly sins," were created to deter people from self-indulgence.
As much as 50 per cent of behaviour is determined by genetic make-up of an individual's DNA. Does this mean that certain people are naturally predisposed to anger, sloth or lustful feelings?
Science of Sin tells the stories of several people that may help explain just where these "sinful" urges come from and how they can change people's lives.
The fascinating show buttresses its facts with stories of savage rage to lifelong fight with obesity to experience with drugs. It explains how nature and nurture could have played a part in the development of these desires.
— Mukesh Khosla