Courting success
Back in the eighties,Lalitaji became a byword for the astute housewife who made the right choices. And two images came to be indelibly linked to her ó Surf detergent and Kavita Chaudhuri.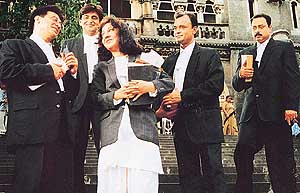 A decade on, Kavita is still better known as Lalitaji. That, despite the fact she did a hugely popular serial Udaan loosely based on the life of Indiaís first woman supercop, Kiran Bedi.
"Such was its impact that many young girls opted for the police service," says Kavita, a gold medalist from the National School of Drama.
Now the lady is ready to take on the law once again. No, not in real life but on the small screen. In Your Honour every Friday 9 p.m. on DD-I, Kavita plays advocate Kaushalya who wants to put wheels under the judicial system and plug loopholes which criminals exploit.
She finds success through a series of well-fought cases and goes on to become one of the top criminal lawyers. Side by side, she pursues her obsession of changing the judicial system. Will she succeed? Find out in this fast-paced courtroom drama.
Gulzar back on DD
Some people donít have to try too hard to stay in the news. Gulzar is one of them. His brilliance as a director, Lyricist and script writer is undisputed.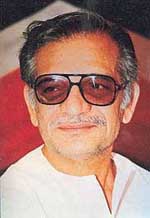 Recently, Gulzar sent waves of excitement in the serious music world when he teamed up with Amjad Ali Khan for the album, Vaada. His other album for kids, Bindaas Bandar too has been getting rave reviews.
But the biggest news is that Doordarshan has approached the writer-director to do a series on the works of Munshi Premchand.
Work on the 52-episode series is likely to begin soon and for once, Doordarshan has made an excellent choice as for as the director goes. Who can do better justice to the doyen of Hindi literature than the versatile Gulzar?
Ek aur Shah Rukh?
Back in the eighties a little known filmmaker embarked on an army-based TV serial with a star cast mostly of newcomers. The serial would have been long forgotten had it not been for one of the debutant stars.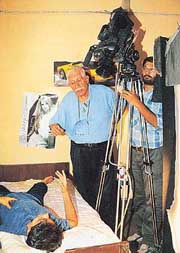 Fauji made serial history as it introduced Shah Rukh Khan to the world of television and later, films. It also made a minor celebrity of its director, Col. Raj Kumar Kapoor.
Twelve years on, in a beleated attempt to encash in on the popularity, the Fauji is ready with Ek Aur Fauji which he insists is not a sequel.
"The serial will motivate young people to consider the defence services as a serious career option as it has a lot of job satisfaction," says Col. Kapoor who took voluntary retirement from the army to train under the late film director Raj Khosla.
As in the first Fauji, Col Kapoorís cast comprises mainly newcomers. Will another Shah Rukh Khan emerge? Who knows? After all no one knew Shah Rukh before Fauji.
Ultimate designs
Question: What do a male peacock and a designer dress have in common? Answer: The male peacockís tail is an example in nature of trying to get noticed by the opposite sex.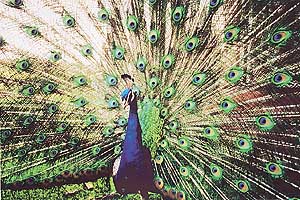 Whether studying the correlation between a rubber band and a frog or sharks and submarines, Discovery Channels shows how nature has inspired technological marvels in Nature by Design airing from August 28-30 at 10.30 p.m.
The programme uses microphotography to compare natural elements to man-made machines. It compares horses to cars, birds to planes, seals to submarines and dolphins to speedboats.
Even human-made protective gear like armour and bullet-proof vests have been inspired by natural elements of protection like skin, hair feathers and shells.
The programme sums up with the message that nature is the original creator and scientists must follow suit by understanding its designs and using them for the progress of humankind.
ó Mukesh Khosla