Travel guide
For travel buffs, Sunday afternoons will now mean new destinations, new cuisines and new cultures.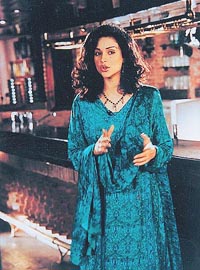 A weekly travel show hosted by former Miss India, Gul Panang, Musafir Hoon Yaaron on Star Plus Sundays 12.30 p.m. takes you across the length and breath of the country.
Every week you visit three destinations and information concerning hotels, lodges, sight-seeing opportunities will be shared with you.
Produced by Nikhil and Niret Alva, the two sons of Margaret Alva who have earlier done travel shows for BBC, the aim is to visit popular tourist haunts and give viewers more than just the history and beauty of the place ó a la The Lonely Planet style.
So keep a pen and paper ready. Musafir Hoon Yaaron comes packed with information which will stand you in good stead if you were to visit the place.
Girls steal the show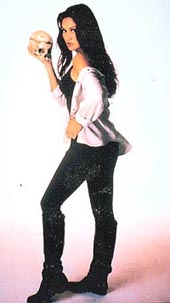 Itís an all-girl show. AXN TV is bringing new prime time programming where glamdolls play the lead roles. The checkerboard of series includes Relic Hunter, The Profiler and The Net.
Relic Hunter Mondays 9 p.m. stars Tia Carrere as Sydney Fox, an unorthodox history professor with a lust for excitement and a passion for adventure.
Former Clairol model Ally Walker stars as Dr Sam Walker, an FBI forensic psychologist who unveils the profile of the most wanted criminals in The Profiler every Wednesday at 9 p.m.
In The Net Fridays, 9 p.m. Angela Bennet, a computer consultant-cum-hacker, takes up the task of saving the world from criminals set to capture the Internet, while fighting to save her own stolen identity.
So stay tuned as the all-girl shows get underway on AXN.
Poll vault
It was expected. Viewers have made their choice and voted in favour of Kaun Banega Crorepati on Star Plus Mondays to Thursdays 9 p.m.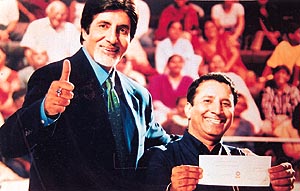 A special sweep by TAM Peoplemeter shows the programme in its initial days has swept viewership ratings by four times compared to other satellite channels. Kanpur clocked 61 per cent viewership share, Delhi 55 per cent and Mumbai 39 per cent.
The over 80 lakh phone-calls for participation, in just one month endorse the initial mandate of the audience. But the moot question is: would Star Plus be able to sustain the tempo?
Amitabh Bachchan is somewhat of a contrast to those who have seen Regis Phebin host Who Wants To Be A Millionaire. The American anchor is as big a draw as the show.
The Big B will have to pack a bigger punch for the big money show to take off from here to heady heights.
TVís crocodile dundee
Steve Irwin, one of Animal Planetís most popular personalities, a man with a mission to rescue and protect threatened animals throughout the world.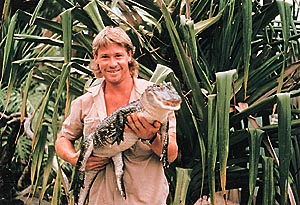 From August 8 at 9 p.m., watch Steve The Crocodile Hunter and Terri travel the globe in search of crocodiles, rattlesnakes and orangutans, some of natureís most vicious and beautiful animals.
Part Indiana Jones, part Jim Fowler and part Tarzan, Steve Irwin is entirely unique. In each episode, this experienced naturalist ó who is also the director of the Australia Zoo ó and his wife, Terri, provide viewers with a one-of-a-kind guided tour of captivating locales and unique wildlife.
ó Mukesh Khosla