Where's the real stuff?
After the nefarious goings-on in the game, do you still have a craving for cricket? Would you spend good viewing time listening to cricketers on your TV screen?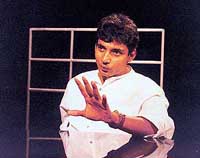 Cashing in on the raging controversy, BBC World wants you to do just that with its 13-episode series — Face to Face: Cricket Specials where Karan Thapar speaks to Jadeja, Mongia, Kumble, Srinath, Bedi and others.
No, the fulcrum of these talk shows is not the mess which cricket and cricketers find themselves in today. Most of the current and former stars talk of their childhood passion for the game and their on-field accolades.
But, you may ask, where's the real stuff — match fixing, bookies and shady deals? There is very little of that. Perhaps Thapar, who managed to turn an icon of our times into a tearful heap, wants you to forgive and forget.
Cats on the prowl
For an Indian serial this surely is high quality and high action. C.A.T.S. on Sony Entertainment Television, Fridays, 8 p.m. is almost as slick as its American counterpart Charlie's Angels.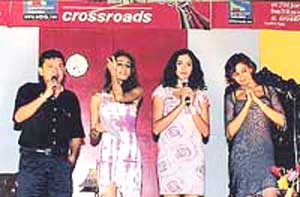 Starring Malini Sharma, Kuljeet Randhawa and former Miss India Nafisa Joseph, C.A.T.S. is a taut series of action, mystery and suspense. The three beautiful detectives work for agent "Charlie" and strive hard to overcome the evils that dog the city.
To boost its popularity further, the producers recently introduced an innovative contest where viewers were asked write a slogan and answer three questions.
Two lucky winners each from five major cities have now got a chance to star in one episode of the serial! The auditions were conducted in a reel life C.A.T.S. backdrop — complete with a dead body and the three detectives.
Missed the action? No problems. The contest is likely to go on air again. And that could be your chance of working with the three glamour girls for whom crime — fighting is not just a career but a mission that often puts their lives on the line.
Hindi hain hum
It's official now. The English-Hindi programming experiment has been finally given a quiet burial by all channels. With Star Plus going all Hindi, language divisions are complete.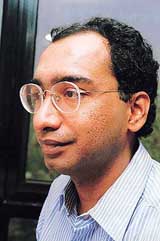 Star Plus has brought about the change with a lot of fanfare. The all-Hindi programming package comprises new shows, new time slots, new bands and new Hindi films.
Kick-starting the go-Hindi initiative has been a line-up of new shows like Kaun Banega Crorepati, Gharwali Uparwali, Kyunki Saas Bhai Kabhi Bahu Thi, a new kid's band, Monday to Friday, For kids in Hindi and Week-end Plus on Saturday.
Says Sameer Nair, senior vice president (programming), "The new strategy, was planned after studying viewing habits. Movies top-rated response charts followed by interactive game shows, soaps and serials and a little bit of news and current affairs."
With the viewer being spoilt for choices, it is obvious Star Plus is readying itself for a ratings war looming over Hindi channels.
Man trouble
For a change, here's the world from the male perspective. A journey into the man's true psyche and his problems — today, yesterday and tomorrow.
Little Mirchi Thoda Pepper Saturdays 9 p.m. on Zee is a half-hour, light-hearted serial which centres around man. His dreams, his emotions, his leisure...without his masks, pretensions and the macho 'image' that he has to carry most of the times.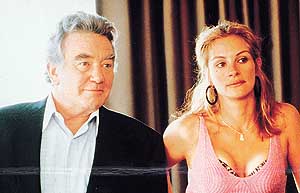 According to the serial, women have taken over the world. Whether it is media, films, entertainment, consumer products, slogans, politics....they are everywhere.
If an Indian film has to win an award in some remote foreign land, it has to be talking about women. The newspapers are full of the professional woman the superwoman and the suppressed woman.
Haven't we heard, seen, breathed, looked women all over, asks the serial. So what happened to the flip-side of the coin...the men! All he has received is male-bashing.
So all you suppressed men unite and sit in front of your TV sets for Little Mirchi Thoda Pepper.
— Mukesh Khosla