War & love
Here's something to pep up your Monday evenings. Sony Entertainment Television's highly rated comedy ILove You 8.30 p.m. now comes with an added fizz.
Based on the love story of a young married couple, Sidhu and Simran, the show has introduced a new character, Chi Chi Chopra (Barkha Madan), a journalist with a lot of fire and confidence.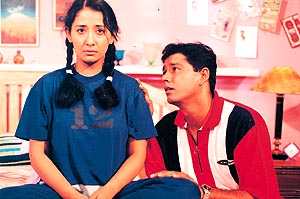 Sparks fly as Sidhu gets smitten by Chi Chi, making wife Simran green with jealousy. A series of comical situations arise as the two women draw out their claws and declare war.
Sidhu unsuccessfully tries to convince Simran that Chi Chi is just a good friend. In reality Chi Chi spares no opportunity to wean him away from his wife.
Guns start booming in this fight to the finish. Missiles fly as Chi Chi uses her glamour and beauty to entice Sidhu away. Simran launches elaborate counter offensives. Espionage and surprise attacks are all a part of this thundering war.
It's a laugh-a minute riot as Chi Chi employs every trick in the trade and Simran uses her wits to keep her husband on leash. Will the other woman grab him from the wife? Find out the answer in I Love You.
With almost 75 per cent TV programming dedicated to films there should be no reason for viewers to feel deprived. But if you are still missing Bollywood, help's nigh.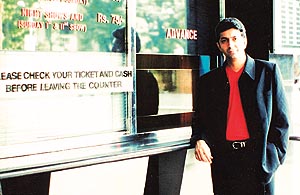 Anchor Kunal Kohli moves bag and baggage to Star Plus with Hello Cinema, Fridays, 7.00 p m determined to entertain and inform viewers about Hindi movies.
Segments of the latest film releases, interviews with stars and directors, predictions at the box office, review of new music and glimpses of forthcoming films, are all there for the movie buffs.
Then there are viewer questions, viewer polls..... in short, everything on films, starts and the industry that you'd like to know.... that is, if you didn't know it already!
A classic re-visited
This one's not to be missed. Taxi Driver on AXN July 21, 10 p m is about war veteran, Travis Bickle (Robert De Niro), now a taxi driver who picks up a gun to cleanse the world of corruption.
He closely observes street hookers and their hangers-on. But his frustrated life takes a turn when he is attracted to a 12-year-old Iris (Jodie Foster) who has been forced into sleaze. As their friendship grows, Bickle becomes obsessed with 'rescuing' her.
And that's what turns him into a one-man killing machine, preparing for a bloody crusade he believes will put the topsy-turvy world right.
The eighties film which won the then child star Jodie Foster an Oscar is counted among the Hollywood classics of the twentieth century. So, all you cinema buffs tune in for some mind-boggling performances.
Pet humour
From commercials to soap operas to home videos, discover how some of the most extraordinary animals shake things up with their humorous tricks.
Beginning July 26, The Planet's Funniest Animals every Monday on Animal Planet at 10.30 p m. Enjoy a good laugh with some of the most cuddly and comedic animals on earth.
With segments on personal hygiene, criminal pets and clumsy creatures, this show is sure to answer the call for pure animal comedy. All kind of animals are featured - from a dog that goes through a hoopla to a squirrel that has mastered the art of picking pockets.
The Planet's Funniest Animals discovers where the term cat burglar comes from with a look at a feline that can break into any room. Viewers observe a dog that sells shoes, a monkey who loves a dip in the family swimming pool and a fish that simply rings for its dinner.
Go on a trip across the continents and into animals' homes in search of the ultimate joker. The show is guaranteed to have you rolling with child-like mirth.
— Mukesh Khosla