Pallavi Joshi
She's back,determined to recapture her numero uno position. After a six-month maternity leave, Pallavi Joshi has returned to where she belongs — the small screen. But this time she wants to add another dimension to her multifaceted personality — singing.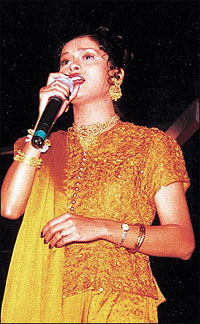 From playing lead roles in serials like Alpviram and Chahat Aur Nafrat,to co-anchoring the highly popular Antakshri, Pallavi Joshi has always been a very busy star.
But more than that,she and husband Vivek Agnihotri have teemed up as TV's first producer-director couple. Their two creations, Neha for X-Zone and telefilm, Sikandar received rave reviews.
"Offers keep coming everyday," she says and adds, "But there's a limit to what you can do. Acting is a very mentally taxing job if you want to do it well. My aim is to pursue what I want most''.
And what she wants most is to sing. Having honed her talents anchoring Antakshri, Pallavi feels she has the makings of a good singer. And those who've heard her say she has both a sense of rhythm and lilting voice. Life's surely on a song for some stars.
Chip of the old block
Modesty is hardly a trait associated with Bollywood kids. But then, this pretty young lady is not a star. Yet, she is no less as far as looks and earnings go.
Given her beauty, elegance and poise, Ekta Kapoor would have found it simple enough to become an actress. But she is a star child with a difference.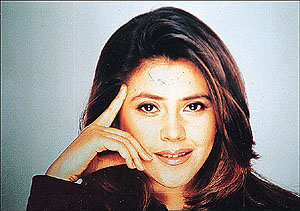 Daughter of actor Jeetendra, Ekta has preferred to stay behind the camera. Her company, Balaji Telefilms has been churning out hit TV serials for the last six years.
Her latest, Kyonki Saas Bhi Kabhi Bahu Thi on Star Plus is a saga of a courageous old woman, "I have to feel strongly enough about a subject to make it into a serial," she says.
Ekta hit big time with Hum Paanch which was aired uninterrupted for five years on Zee, earning the sobriquet of the longest-running comedy on any TV network.
Today, her company produces 30 hours of serials weekly in many languages. With a projected turnover of Rs 35 crore, the phenomenal achievement of this 24-year-old leaves people gaping.
Perfect monuments
In 1631, Mumtaz Mahal made a dying request to Shah Jahan to have a mausoleum, that is more beautiful than any other in the world. He granted her wish by building a marble edifice encrusted with rubies, emeralds and other precious gems.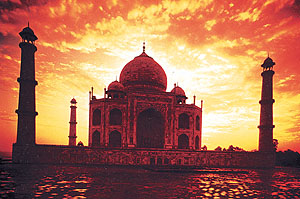 Even today, the Taj is a symbol of love and devotion and is one of the most perfect buildings in the world. It captivates people with its remarkable detail, flawless symmetry and, most importantly, the undying affection of one man for one woman.
On August 18 at 10 pm Discovery Channel tells the story of the Taj Mahal & Borobudur — the world's largest Buddhist temple. The Borobudur illustrate historical scenes, ceremonies and the many lives of Buddha. Each level of the temple represents a step towards a higher plane of consciousness.
Taj Mahal & Borobudur will keep you engrossed with its tales of love, death and lavish architecture.
Most wanted lady
Till just a year ago this little-known model was happy doing assignments in her hometown, Jaipur. Today, Soni kudi, Rajshree Rathod, is big news in Mumbai's TV circles.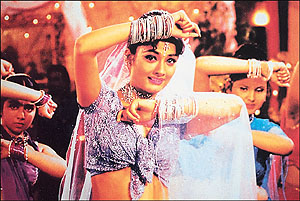 She was first noticed on the video of Munda Tu Hai Punjabi Sona from Kuch Kuch Dil Mein, and many attributed the super success of the album to her looks and performance. Then she mesmerised viewers in the video of Mujhe Mohabbat Si Ho Gayee Hai.
Now she has turned third time lucky with her latest number, Jawani, where she enacts the role of a young girl who falls in love with a thief who has intruded into a marriage party.
Just three videos old, Rajshree now finds herself flooded with offers not just for pop albums, but for TV serials as well. Says she, "Its a dream come true. So many offers in such a short time have come as a complete surprise. I've never felt more excited."
But she plans to take it slow steady and has decided to tread cautiously. "I don't want to play dumb roles. I want roles with substance." Famous last words. But don't laugh. Besides being pretty, Rajshree is pretty serious and pretty determined.
— Mukesh Khosla