Love in the desert
This is mushy stuff. And we have seen it for eons on the big screen. From Sunil Dutt's Reshma Aur Shera and K. Asif's Love and God to J.P. Dutta's Refugee, the big screen has thrown up one desert love story after another.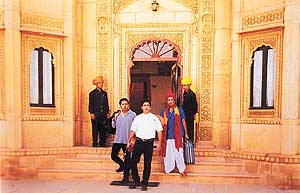 And now it's the small screen's turn as well. Yehi To Pyar Hai, Zee TV, Mondays, 8.15 p.m. is the love story of Vash, a musician from the royal family of Jaipur and Kasturi, a beautiful gypsy folk dancer.
Their love which blossoms in the desert, engulfs the entire royal family. The story has all the elements of a tearful romance — love, hatred, sacrifice, family ties, cultural values and the resolve to stay united despite odds.
The only redeeming feature of the serial are performances by Sanjay Suri and Nethra Reghuraman who are now successful Bollywood stars but did this serial because of an old commitment.
The photography too is commendable thanks to the myriad colours of the desert. The palaces, forts and lakes make for a breath-taking picture. Wish one could say the same about the serial.
Lifetime of achievement
Nothing could be more engaging than real-life success stories. Which explains why Zee TV's N-R-Eyes, Sundays 8 p.m. has been rapidly ascending the popularity charts. Each week it features an individual who has achieved singular success overseas.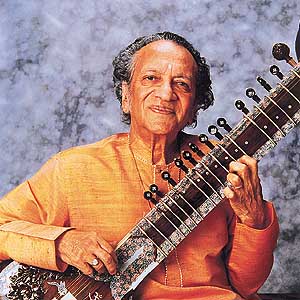 People like Gururaj Deshpande, chairman of the multi-billion Sycamore, Vinod Khosla, founder of Sun Systems, Dr John Kurien, youngest-ever professor of Rockefeller University, M. Night Shyamalan, director of the Hollywood smash hit, Sixth Sense, Pandit Ravi Shankar, who now lives in California, and more.
Conceived by Sunil Halli, N-R-Eyes is the first programme
to present these brilliant Indians to a global audience. People who have scaled the dizzying heights of success in foreign land — all within the time span of a single generation.
With such inspirational people as its topic, the 52-episode series is bound to be absorbing.
New star on the horizon
Viewers may yet be unfamiliar with her name but Amnik Sanshu's face needs no formal introduction. This Delhi-born US-bred girl was first seen on TV in the Liberty Shoes and Satyam Online ads.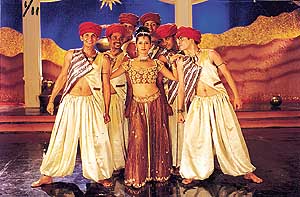 Now the 20-something model, dancer and actress is ready to enthrall viewers with the stunning video of a new album Halla 2000 by Bambino Music.
A communications arts graduate in advertising, Amnik has had a smooth transition from modelling to the video of Halla 2000 choreographed by Saroj Khan.
"I wanted to enroll as Saroj Khan's student but could not as I shuttle between India and the U.S.," says Amnik, who also had a formal training in folk dance.
Now that she's had a brush with modelling and an album video, would acting follow? Yes, she says, she is examining all the TV offers which keep coming almost daily.
So stay tuned. If her talents are anything to go by, Amnik is going to be one big star of the small screen.
Night of the jaguar
Little is known about the cunning feline that lurks in the shadow of the Amazon rainforest in Western Brazil. Now Discovery Channel takes viewers into the lair and out on the hunt with the elusive jaguar.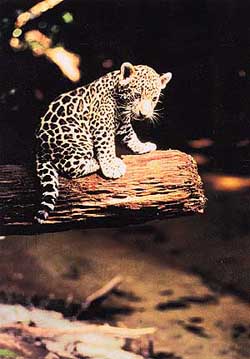 The jaguar is a solitary, secretive creature with the strongest jaws of all the big cats, but what is its true nature — what lies beneath the myths and legends? Explore the enigma of this stealth hunter in Jaguar: Eater of Souls, August 4,7 p.m.
The programme follows a mother and her male cub from the first cry out of his toothless mouth to him leaving the
protective care of his mother. Jaguars are at the top of the food chain in the Amazon rainforest, but they begin life completely helpless.
Watch this little cub experience his first plunge into a river to discover he is an excellent swimmer. Or how much trouble his inquisitive behaviour can get him into when he runs across a bad tempered crocodile. A must-watch show for all wildlife lovers.
— Mukesh Khosla