Stage two for Dalnaaz
She's done it step by step. First as a theatre person and now as a television star.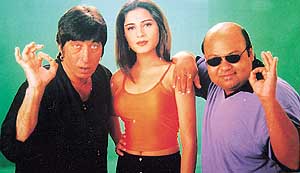 After enthralling audiences in English plays like Suitable Bride, Kitty Kitty Bang Bang, Hotel motel Patel and Darling Darling. Dalnaaz Paul is now out to win hearts of TV viewers in Aashirwaad where she plays the other woman.
"It's a very challenging role," she says. "The other woman in a married man's life always means excitement and risky thrills. And that's the kind of tantalising character I play."
Dalnaaz is no stranger to the small screen. After roles in Parivartan, Dekh Tamasha Dekh and Chamatkar she was first noticed in Colgate Top Ten with Shakti Kapoor and Saurabh Shukla.
Now, of course, she's fast becoming a known face what with SAB TV having given her starring roles in their leading serials like Yes Boss, Abhi to Main Jawan Hoon and Papa Jaldi Aa Jaana.
And there are film offers flowing in as well. "I don't know whether I'll accept them. I
am thoroughly enjoying doing TV." Well, if she does accept them, Bollywood's gain would be television's loss.
On-stage with Govinda
His fortunes may have suddenly dipped with a string of flops, but when it comes to live entertainment, Govinda is Hero No. 1. And if Star Plus presents him live on stage, can Zee be far behind?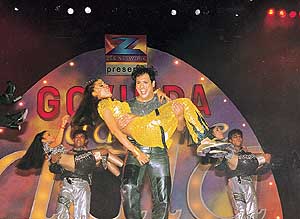 Following Star TV's dazzling Govinda stage show in Bhopal, Zee TV invited the dancing star for a performance in Delhi. And he didn't disappoint with his jiggling and giggling act.
Govinda Ala Re Ala gave audiences a complete Govinda experience. Starting from Ilzaam his first film till his latest releases like Hadh Kar Di Aapne, Joru Ka Ghulam and Kunwara, the show captured the most popular moments of Govinda's acting career.
Adding to the glamour were some of his co-stars like Raveena Tandon, Twinkle Khanna, Sonali Bendre, Shakti Kapoor, Kader Khan, Namrata Shirodkar, Satish Shah and Rakesh Bedi.
A fun show which in parts got people clapping and dancing. But in true Govinda style, loud and garish.
Yes minister
Not all is wrong with Alpha TV Bangla. Occasionally it manages to throw up a serial which is both engrossing and something to look forward to.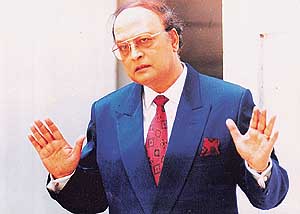 Jemon Bolben 'Sir' Saturdays 9 p.m., is one such comedy. It revolves around the trials and tribulations of Jagmohan Halder, a minister in the state cabinet. The essential focus is on the drama that results from his position.
The situational comedy covers the life of Haldar — from a party worker to being nominated as minister to graduating to the position of chief minister of the state and finally retiring.
Interestingly his two major partners in this long journey are his two secretaries, Haripriyo Upadhyay and Ullas Bardhan, who are with him from the beginning to the end of his carrer.
The interests of both the secretaries clash on numerous occasions. And on some they coincide. Giving the series a comical twist which showcases the political wheeling-dealing in India.
Home for elephant
At the first-ever National Elephant Day in March 1999, 12 domesticated Asian elephants wandered into the wilderness to begin new lives. But their path to freedom was an arduous one.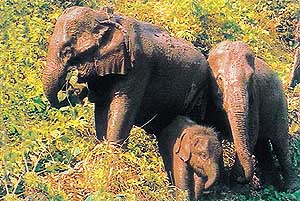 Elephants on the National Geographic Channel, August 24, 6 p.m. traces a unique wildlife rehabilitation process in Thailand.
The eradication of illegal logging operations left many domestic elephants, trained to work in Thailand's logging trade, homeless and ill-equipped to fend for themselves in the wild.
To address the crisis, the Elephant Conservation Centre in Lampang, Thailand rehabilitates the animals with the goal of releasing them into protected areas and then monitoring their well-being through the use of radio collars.
The benefit of the Centre's efforts extends well beyond the rehabilitated domestic elephants it helps. Through dedication to its mission of giving these animals a new lease on life, the Elephant Conservation Centre boosts wild populations, as well.
Thanks to its pioneering work, it's the dawn of a new era for the Asian elephant in Thailand.
— Mukesh Khosla