Call of the supernatural
A muffled footstep...a rustle in the dark....an ominous, long shadow with a mind of its own...Thatís what Dahshat on BAU Tuesday, 8 p.m. is all about.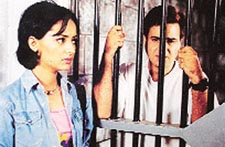 An episodic series of suspense, horror and taut excitement, the stories are laced with the supernatural, spiked with mystery, intrigue and out-of-the-ordinary occurrences, which will have the viewer, leaning forward and watching with baited breath.
Believe them or not, but the series does provide chills for those who like the horror stuff. Produced by Santram Verma, Aftab Hasnain and Jayesh Patil, every episode will have a new star cast and a new storyline. Expect nothing original except tales of blood and gore week after week.
Online sports coverage
For sports fans, days and nights wonít be the same again. Star Sports is ready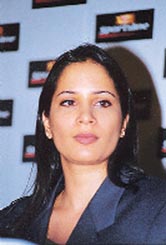 to give a daily dose of adrenaline on Sportsline, a live half hour news-based show on the latest happenings.
The programme will be featured three times a day ó7 a.m. 7.30 p.m. and 10 pm. Says Star Sports managing director, Manu Sawhney, "Viewers will recieve news, views, analysis and forecasts of top international events."
Sportsline will be hosted by John Dyke and former national squash champion, Misha Grewal. For cricket coverage, the special quests will include Geoffrey Boycott, Sunil Gavaskar and Harsha Bhogle.
So hereís your chance to get sporty with a programme which will not just perk up your day but keep you up with the times as well.
Height of adventure
This September, travel to exotic and outrageous locations around the world in the company of a charming host. Intrigued? Discovery Travel in collaboration with Adventure Channel takes you all over the planet with its new premiere series Adventure crazy Saturdays, 10 p.m.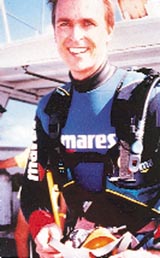 The show is packed with exciting events like four-wheel driving to an active volcano in Costa Rica, feeding hungry sharks off Exuma Cays in the bahamas and meeting a witch doctor in Thailand. The programme includes meeting local people, participating in their customs and learning their culture.
The host and executive producer Phil Keoghan recruits native people who are adventure crazy to guide him through the local customs of each region. From trekking across an island with an active volcano to going through the longest underwater cave in the world and to participating in a ceremony with a witch doctor in Thailand.
Keogan is in his element with each hour long journey. He takes the viewers along for lifetime experiences every captivating them with his undying enthusiasm.
Animated series
If Oriental mysteries interest you, then AXN has the enswer to your dreams. The channel has launched a new programme Curious Play to be aired every Saturday about the wonders of the enigmatic past of China.
The serial in animation form centres around a Chinese high school girl, Miaka whose main interest lies in books and lives of the people in ancient lands. The fun starts when she accidentally stumbles upon a book concerning ancient china and the shroud of mysticism around it. Without realising that she was once a part of this mysterious past, Miaka plunges into the book with her usual enthusiasm until she realises that she is once again being drawn back into the past to fight mystical battles against evil.
Her playful and carefree attitude coupled with the serious battles she has to contend with give life to a culture of the past that would otherwise be quiet and monotonous.
A visually entertaining must-watch serial which is packed with a punch and keeps you on the edge of your seats.
ó Mukesh Khosla