Crime time again
At the outset there is no element of mystery here. Just a re-construction of the crime and how the culprit is finally brought to book.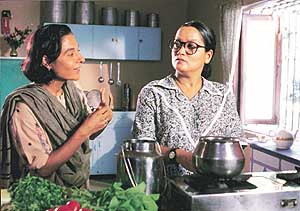 So, instead of a whodunnit, Inspector KCcoming on Doordarshan is actually a howdunnit. It is not the story of crime but of investigation of a crime. This is what makes it different.
The crime and criminal are revealed to the viewer in the first few minutes of the episode. But Inspector KC is completely in the dark and has to solve the mystery which is done through seemingly small and insignificant clues.
The chief protagonistís image is not macho and slick. Instead, Inspector KC is a dowdy, bumbling, clumsy character. But lurking behind the facade is a razor sharp mind.
Everything seems set for good viewing here. But thereís a flaw. Considering Anita Kanwar almost killed the earlier series Saboot with her listless performance, Cinevistaís decision to cast her in yet another crime thriller is odd, to say the least.
All in a Deís work!
A lifetimeís not enough for what sheís done in a few decades, yet celebrated writer, socialite and former model Shobha De continues as if life is just beginning.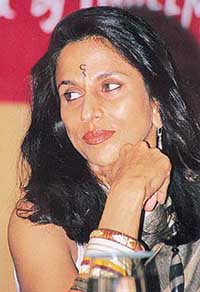 Having scripted Swabhimaan ó one of the most successful soaps on television ó De is not sitting back on her laurels. Now she has been entrusted with the responsibility of creating another soap ó "to beat all other soaps," as director Manish Goswami puts it.
And De has happily taken up the assignment for an undisclosed sum. With just one pre-condition ó like Swabhimaan, the new serialís name too had to begin with an ĎSí. So, itís been named Sukanya.
To be aired on DD Metro, it would have all the Shobha De ingredients ó a liberal dose of intrigues, envy, jealousy, lust and, of course, sex.
And once this is over, De would like to keep her involvement with the small screen at a heightened pace. After all, itís not for nothing that Rathikant Basu has appointed her as director of his newly launched Tara Marathi channel.
Serial brothers
Seen any good Adhikari Brothersí serials lately? If you have, chances are it was on some other channels and not on their own SABe TV. The latter is languishing as it has to make do with re-runs of popular shows or those not accepted by other channels.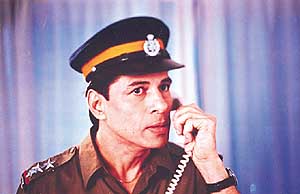 Take the case of Markand and Gautam Adhikariís Suraag on DD, Mondays, 10.00 p.m. Itís been amongst the top five shows with TRPs touching 14. Viewers have been hooked to the adventures of Sudesh Beri the honest cop pitched against goons and criminals.
Had it not been for the unqualified success of Kau Banega Crorepati, this serial could have been among the top-rated across all channels. But then, KBC has wrecked many wannabes.
If the Adhikari Brothers felt cheated by Bachchanís jadoo on Star Plus, they were instantly rewarded by DD with yet another thriller series, Suspense Every Week telecast at 10.30 p.m. every Tuesday, Wednesday and Thursday.
So, if you missed Suraag on Monday you can now see its clones on the following three days. And if you miss the entire series, donít panic. Chances are it will have a re-run on SABe TV.
Laugh riot
Hereís a movie to really tickle your funny bone. Donít miss What About Bob on Star Movies, September 24, 11 a.m. which will have you rolling over with mirth.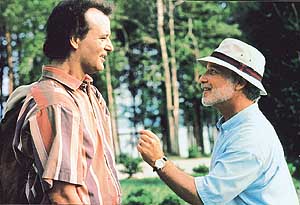 Richard Dreyfuss stars as the highly successful psychiatrist, Dr Leo Marvin whose summer vacation is ruined when his multi-phobic patient, Will Murray unexpectedly shows up at the holiday resort and refuses to leave.
Unable to regain control over his life Dr Marvin hits on a plan to get rid of Bob. But the plan is so crazy that it leaves audiences wondering which of the two is crazier.
What About Bob is a rare treat and a perfect setting for Sunday morning laughs.
A funny prescription
Forget the pain and misery and look at the funny side of a hospital. And it can get very funny if the place happens to be the Imartibai Ghevermal Memorial Hospital.
Everything is corny in Haal Kaisa Hai Janab Ka, Sony TV, Tuesdays 7.30 p.m. One look at the staff tells all. Right from Dr Sharma who has an ambition of becoming a film star to psychiatrist Dr Tambi who needs help himself, it is one big pell mell.
The nurses have a life of their own. The matron who keeps an eagle eye on nurse Leena whose life revolves around men and nurse Roja Kutty, hopelessly in love with any doctor she meets.
The patients too ensure thereís never a dull moment. Whether it is protesting against hospital food or behaving in a way that throws a perfectly normal place out of gear.
So check in, even if thereís nothing wrong with you. Because, as the saying goes, laughter is the best medicine.
Going up in smoke
BBC World goes behind the battle lines in the tobacco war to reveal the secrets of a century of smoking in a new series presented by Michael Buerk.
The cigarette is the twentieth centuryís most familiar and perhaps most successful consumer products. It is also one of twentieth centuryís biggest killers.
Tabacco WarsSaturdays 2.40 p.m. August 19 and 26 and September 2, discusses the 20th centuryís phenomenal love affair with the cigarette: the influence of advertising and the cinema on womenís smoking, combined with the promotion of the cigarette as a sensuous, macho and indispensable social tool.
There were other villains as well. Some doctors who advocated cigarettes as a healthy pastime and an excellent slimming aid; the use of World Wars I and II to turn cigarettes into a tradable currency.
In short Tabacco Wars showcases how the cigarette built huge fortunes and vast empires that are fighting to protect the wealth that this tiny tube of tabacco has come to represent.
ó Mukesh Khosla