Sister act
Raveena Tandon started it all. She encouraged brother Rajeev to become a TV producer. The actress herself called up channels, asking them to give her brother a chance.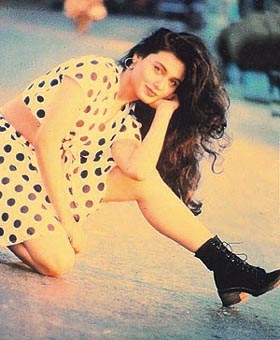 Of course, life for him went in the fast-forward mode when he married Mumbai model, Rakhee. The two set up R.T. Entertainment which has now become a multi-crore company producing serials like Heena, Prof. Pyarelal and Rishtey as also episodes of X-Zone.
Taking a leaf from Raveena's book, Rani Mukherjee too has decided to shape up the life of her brother, Raja. And what better way then to set up a TV software company for him?
Like Raveena, Rani too has been talking to senior executives of leading channels about the possibility of her brother making serials for them. In all likelihood he is going to get a few plum assignments.
Will Raja Mukherjee deliver? Maybe yes. But if not, Rani's next job may be to find him a bride who is as dynamic as Rakhee Tandon and makes a resounding success of Raja's company!
'Minding' celebrities
Discover the minds of Usha Uthup, Sarbari Dutta, Indrani Sen, Chunni Goswami and more. No, you don't have to be a magician to do that, Journalist Saumyo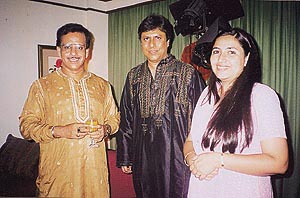 Bandhopadhyaya will do it for you on Mon Niye on Zee's — Alpha Bangla every Monday night at 8.30 p.m.
Produced by B.A.G. films, this is a talk show with a difference. The programme provides an insight into the lives and minds of its celebrity guests who are psycho-analysed by an expert on the basis of the answers they give.
The show's uniqueness lies in the fact that the guests lay bare their hearts, souls and minds to viewers. The analysis is made by reputed doctors and psychiatrists who provide an authenticity to this engaging show.
Toons on parade
Here's some peppy new for kids reeling under midterm exam blues. Cartoon Network is previewing a new generation of cartoons from contemporary animators.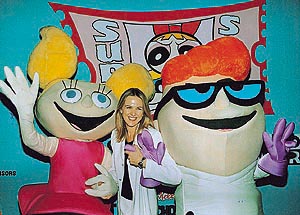 Working with a budget of $ 450 million the network invited animators to submit pilots for what will be the next generation of cartoons to be titled Cartoon Cartoons.
The other toons in this category include Courage the Cowardly Dog, Dexter's Laboratory, Johnny Bravo, and The Power Puff Girls. One of the pilots, Sheep In The Big City, has already been given go-ahead for production. Ten more pilots are under consideration.
"The network's goal is to be the leading brand. To achieve that we need to lead the way and create new cartoons," says Celia Chong, executive vice president, Turner Entertainment Networks.
Considering that it is already racing way ahead of Niclodeon, Cartoon Network has a winner on hand once again.
Guts and grit
Two detectives, a string of bizarre cases and high-profile crimes of passion. Crime-busting never looked this glamorous — not until Silk Stalkings, appeared on AXN, Thursday 9 p.m.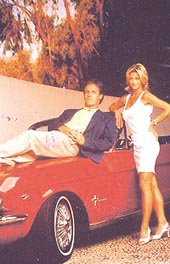 Now comes the all-new Silk Stalkings in which main characters, chris Lorenzo and Rita Lance have an unusual speciality — to track down murderers and protect victims of high-profile crimes. Their task: to patrol an elite oceanside community.
Where there is money, and lots of it, there is bound to be deception and murder. In this high society world, not even the glittering stars are spared.
That's why Chris and Rita believe that when it comes to capturing a murderer, no one is too high on the rungs of society's ladder for justice.
An edge-of-the-seat serial which has such a flurry of eye-candy girls which would be enough to make Baywatch blush.
Wild leap
Slimy or parched, scaly or smooth reptiles fascinate humans with their agility and adeptness.
Animal Planet takes viewers into swamps and the forests for a look at the most extraordinary reptiles on the planet with Stalking Big Crocs and Frogs: Leaping Wizards airing September 11, 10 p.m. and September 13, 10 p.m. respectively.
Wildlife adventurer Wayne Crawford goes on a journey to the wild world of Africa in search of the infamous Nile crocodiles in Stalking Big Crocs. They are commonly viewed as some of the most cantankerous creatures in the world.
Frogs: Leaping Wizards brings the wonderful world of frogs into viewers' homes with an interesting look at a family of animals composed of tens of thousands of species — with new ones being discovered all the time.
From the transparent glass frog of Africa to the grey tree frog that freezes to survive a harsh winter, the show brings viewers the surprisingly beautiful and extremely diverse world of frogs.
— Mukesh Khosla