Neena's natter again
Here's a show with a difference. Manthan on B4U, Tuesdays 8.30 p.m. has Neena Gupta playing the role of an agony aunt in this issue-based programme.
The show deals with the more serious, darker side of life where subjects of extra-marital affairs, family discords, child abuse and incest are dealt with sensitively.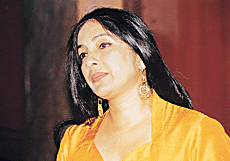 Neena Gupta discusses the problems with the victims and their families and intersperses the show with dramatised events besides offering solutions.
Whenever advice is needed, the show invites medical, legal or other experts. Produced by Anupam Kalidhar and directed by Shyam Maheshwar, Manthan, is a platform for solving problems with a new approach.
The show once again highlights the sheer versatility of Neena Gupta who, besides producing and directing Saans and Pal chinn, is acting in half a dozen other serials apart from now playing anchor in Manthan. The lady surely is a bundle of energy.
High on adventure
Viewers — on your mark, get set and Go For It ! This show is a comprehensive guide for adventure-seekers. It combines outdoor pursuits with demonstrations of recommended diets, exercises, clothes and gear needed for outdoor sports.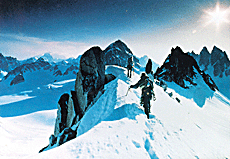 Go For It ! on Discovery Tuesdays through Fridays at 3 p.m. entices viewers to get out of their armchairs and experience the rush of mountain biking, snow boarding, hand gliding and more.
In addition, the series takes you to expeditions around the world to find the optimum sporting locations for the best in international action adventures.
Each episode is aimed at people who enjoy sports and want to get more out of them, as well as try new things. It helps them get started, showing them how to warm up, finding the best new gear and dressing right for the best performance.
From jet-skiing to ice-climbing the programme incorporates many such death-defying stunts. Rotating segments featuring fantasy sports like playing golf with Jack Nicklaus and driving a Porsche up the Pacific Coast Highway in America add a new thrill to each episode. A must-see for all adventure seekers.
Oscar fever
The Academy of Motion Picture Arts and Sciences Award of Merit is a 13 1/2-inch gold-plated, tin alloy statue of an undraped man known to billions around the world as "Oscar". Yet it has the power to transform ordinary mortals into glittering stars.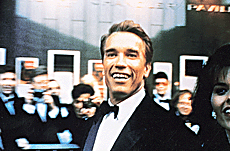 The Entertainment Biz on BBC World from October 14 to November 19, 7.40 p.m. traces the history of the Oscar from the time it was a film association's annual bash to the present-day Academy Awards attracting not only Hollywood's glitterati but over a billion TV viewers.
Dustin Hoffman, James Woods and Brenda Blethyn are some of the many film stars interviewed about winning and losing. Other contributors include Arnold Schwrzenegger, Mel Gibson, Goldie Hawn, Tom Hanks, Billy Crystal, Whoopi Goldberg and more.
The day itself throws together stars, fans, journalists, florists, designers, jewellers, photographers, TV crews, security men on a red carpet leading to success or failure — an evening which can change a star's life forever.
War of the lords
It's Lord Ganesha versus Lord Ganesha as the channel wars spill over into the realm of religion. If Sony is airing Shree Ganesh, Zee has followed with Jai Ganesh.
But it is Shree Ganesh, Sundays, 9 a.m. on Sony which triumphs due of its slick production values and neatly packaged anecdotes.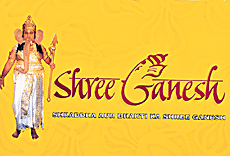 The serial starts with Lord Ganesh being depicted as 'Mahaganesha', the creator of the Universe. Lord Shiva's other half, Devi Shakti asks God to make her the mother of Mahaganesha.
Since her wish is not fulfilled, in her next incarnation, Goddess Shakti takes birth as Parvati, daughter of mountain King Himalaya and Queen Maina.
While bathing, Parvati creates a doll of a boy from the dirt of her own body and breathes life into him. On seeing a stranger at the door, Lord Shiva cuts off the boy's head. Parvati is grief stricken and Shiva attaches the head of an elephant on the boy.
Thus is born the legend of Lord Shiva which is now being narrated on Sony TV. We may have all heard the stories a thousand times but they still hold a mesmerising charm for the devout.
— Mukesh Khosla