One in a crore
He is TVís first crorepati. Harshvardhan Nawathe, an IPS aspirant from Mumbai has brought to an end the wait and anticipation for the ultimate winner of Kaun Banega Crorepati.
Says Sameer Nair, executive vice president programming, Star TV, "Since the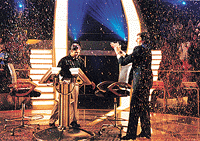 time Kaun Banega Crorepati started in July, Star Plus has given away more than Rs 6 crore as prize money to participants from different parts of the country."
Harshvardhan says, "The euphoria of winning sunk in only when pandemonium broke out among the audience. People descended on me wishing and hugging me. After the episode I signed over 300 autographs!"
And what would he do with the prize money? "Iíll give it to my parents and go back to studying for my IPS. All this money means nothing to me." Whoever said Ďthe next best thing to having money is to have a contempt for ití, perhaps had Harshvardhan in mind!
News behind the news
Tired of half-baked analysis and lopsided news and views? Take a break from monotonous news magazines, bulletins and journals and watch Darasal a new weekly news and current affairs magazine, Thursdays, DD Metro at 8.30 a.m.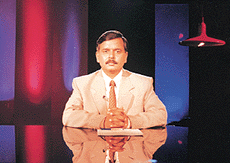 The capsule attempts to bring out facts and the true sequence of events with in-depth analysis. The 30-minute show is divided in three segments. The first, Khaas Khabar highlights important events of the week. Focal stories are debated by experts invited from various fields related to the issue.
The second part, Puranne Panne digs out old stories and controversies which have remained unsolved but were dropped by the media because they lost steam.
The third leg of the show is titled Nazariya where the emphasis is on issues requiring more information and investigation. So, if you are a news buff, tune into this engrossing current affairs show which makes an honest attempt at getting behind the news of the week.
Love conquers all
Life seems to be going at a hectic pace at Sony Entertainment Television. Week after week the channel has been premiering new serials sending worrying signals to Zee TV.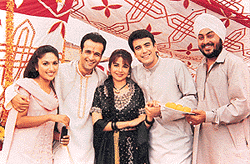 Milan, Thursdays 8 p.m. on Sony is another new serial aimed at the entire family. It is the story of a young girl, Chanchal caught in the seemingly impenetrable tangle of family ties and love. Directed by Lekh Tandon, it explores the heady power of love and how it sometimes comes in the way of family commitments.
The serial weaves an elaborate and entertaining story around Chanchal and viewers are left guessing how it will end ó whether she will sacrifice her own happiness for her familyís sake or go back to the man she loves or will she be able to fuse the two? For answers tune into Milan every Thursdays at 8.00 p.m. on Sony.
Animal farm
Far away from the manic world of tensions and stresses you can find solace on the Animal Planet with your favourite animals. The channel is airing another extraordinary programme Zoo at 6.30 p.m. daily.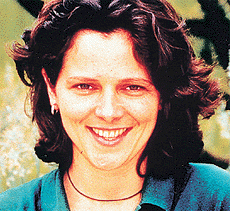 The show gives an insight into spellbinding events such as the birth of a baby pygmy hippopotamus, a gorilla suffering from toothaches and a baby golden eagle learning how to fly.
Filmed on location at the London Zoo Regents Park, Zoo introduces the audience to the staff, animals and visitors of the zoo, as well as its sister establishment, Whipsnade Wild Animal Park.
Viewers embark on an exciting behind-the-scenes tour of these famous institutions to visit the 10,000 odd animals that reside in this sanctuary, be they domestic pets, rare specimens or endangered species. A must-watch for all animal enthusiasts.
Mr Mom
This is a not-to-be-missed movie. Arnold Schwarzenegger trades the war room for the delivery room to experience the miracle of giving birth to a baby.
Junior on HBO( October 22, 9 p.m). revolves around scientist Danny DeVito who takes a dip in the gene pool to test an anti-miscarriage drug. And the result is a pregnant Schwarzenegger. Hilarious from the word go.
ó Mukesh Khosla