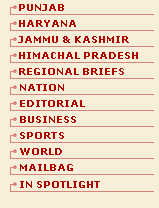 Sunday, November 26, 2000, Chandigarh, India
Updated at 3 am (IST)
Dhumal faces revolt
3 HP ministers, 3 MLAs withdraw support
SHIMLA, Nov 25 — The 32-month-old BJP-HVC combine government of Mr P.K. Dhumal has plunged into a serious crisis with three ministers and an equal number of legislators withdrawing support to him because of his "discriminatory" attitude and "humiliation" of senior partymen.
Curfew imposed on Kishtwar
9 militants shot dead
JAMMU, Nov 25 — An indefinite curfew was imposed on Kishtwar town in Doda district to prevent violence following the massacre of five bus passengers belonging to a minority community.
CAST YOUR VOTE
Is the government right in disinvesting in Maruti Udyog Limited?