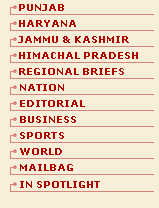 Saturday, December 30, 2000, Chandigarh, India
Updated at 3 am (IST)
Hijacker back after 30 yrs
Pledges support to Vajpayee


NEW DELHI, Dec 29 — Pledging his full support to the Centre's peace initiative in Jammu and Kashmir, Hashim Qureshi, founding member of the JKLF, who hijacked an Indian Airlines plane to Pakistan in 1971, made a dramatic return to India today after 30 years of exile and was arrested after a four hour-long drama at the Delhi airport.
First lionised, then tortured by Pak
NEW DELHI, Dec 29 — The Pakistani authorities had lionised Hashim Qureshi who was only 16 years of age when he hijacked the airliner, and forced the pilot of Ganga to land at Lahore airport in 1971.
CAST YOUR VOTE
Do you think that Prime Minister A.B. Vajpayee's remarks on Ayodhya would increase communal tensions?