IN PASSING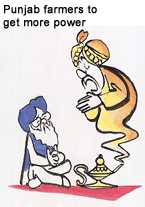 My Lord, more power is the only thing I can't deliver.

by Sandeep Joshi
Bismillah Khan receives Bharat Ratna


New Delhi, May 4
Renowned octogenarian shehnai maestro ustad Bismillah Khan today became the only Indian artiste to have received all four top national civilian honours when he was given the Bharat Ratna by President K.R. Narayanan.
SC for steps to check female foeticide
New Delhi, May 4
To check the misuse of advanced technology in female foeticide, the Supreme Court today directed the Centre and the state governments to implement the Pre-natal Diagnostic Techniques (Regulation and Prevention of Misuse) Act coupled with media campaign against the menace.



FOLLOW UP
3 marriage palaces to be razed
Order soon on illegal buildings near Baddowal
Ludhiana, May 4
The District Administration today ordered the owners of three marriage palaces located on the Ludhiana-Ferozepore road to demolish their palaces within one month, failing which the administration would demolish them as a follow-up action on the directions of the Punjab and Haryana High Court.
Shabir's response positive: Pant
May 4, 2001

Pant aides prepare ground for talks
May 3, 2001

Musharraf backing J&K insurgency
May 2, 2001

Army begins probe into depot fire
May 1, 2001

CRPF vehicle blown up, 6 jawans dead
April 30, 2001

Laloo expels three party MPs
April 29, 2001
Tehelka fallout: N. K. Singh goes
April 28, 2001
Involve Pak, insists Hurriyat
April 27, 2001
Salaried class gets tax relief
April 26, 2001
Jaya out of poll fray
April 25, 2001
Govt climbs down on Tehelka JPC
April 24, 2001