USA for substantive leap in ties: General Shelton
New Delhi, July 19
There were indications available today that the USA was likely to lift the post-Pokhran sanctions against India with the Chief of the US Armed Forces, Gen Henry Shelton, saying that Washington and New Delhi were poised for a "substantive leap" in military-to-military relations.



| | |
| --- | --- |
| | The Chairman, Joint Chiefs of Staff, USA, General Henry H. Shelton, inspecting a guard of honour at South Block in New Delhi on Thursday. — PTI photo |
THE TRIBUNE MAGAZINES
On Mondays

On Sundays
On Saturdays
More breaches in Ghaggar
Flood water brings toxic effluents
Patiala, July 19
Two more breaches occurred in the Ghaggar river since last night, even as the Tangri and Markanda rivers criss-crossing the district flowed above the danger mark and water accumulated at RD 460 in Khanauri. Four villages — Gular and Jogewal in Patiala district and Nawangaon and Hotipur in Sangrur district — have been affected by the fresh breaches.
In Arts Tribune today
IN PASSING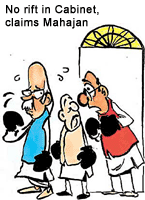 In fact, we want to say that we are ready to face any situation!

by Sandeep Joshi
People shifting their animals from the flooded to safe areas at Chandu village in Sangrur district on Thursday.
— PTI photo
Dr Soch may get extension
Chandigarh, July 19
Though several candidates are in the run for the vice-chancellorship of Guru Nanak Dev University, according to indications available at the official level, Dr Harbhajan Singh Soch is likely to get extension for one more year as Vice-Chancellor.


They return home after months
Army rescues youths from ultras' clutches
Jammu, July 19
Mr Ghulam Mohiuddin Mir raised his hands to thank the Allah. He had seen the face of his son, Mushtaq Ahmed Mir, a conductor, after seven months. Tears trickled down his cheeks as the Army authorities handed over his son to him at the corps headquarters here today. Parents of Mushtaq Naik, a Class IX student of Tral in Pulwama district, had no words to express their happiness.
Forget Agra, India tells Pakistan
July 19, 2001
Agra another step towards peace: India
July 18, 2001
Talks collapse, Musharraf leaves for home
July 17, 2001
Parleys constructive, very cordial
July 16, 2001
Resolve Kashmir issue once and for all: Pervez
July 15, 2001
Pak President arrives today
July 14, 2001
No set proposals on J&K: Jaswant
July 13, 2001
NDA not to attend Pak reception
July 12, 2001
30 pc cut in PDS wheat, rice prices
July 11, 2001