Bodies of 4 VDC members found
Tension in Kishtwar; 2 dead, 21 hurt in blasts
Jammu, July 23
Tension continued to prevail in Kishtwar area today with the recovery of four bodies of the seven villagers kidnapped on Saturday night. Denying reports of curfew in the area, police sources said the situation in Kishtwar was tense but under control with the authorities monitoring the situation.
In Education Tribune today
THE TRIBUNE MAGAZINES
On Mondays

On Sundays
On Saturdays
Bandh against killings complete
Effigies of Musharraf burnt
Jammu, July 23
A bandh was observed in various parts of Jammu, Doda, Kishtwar and Bhaderwah towns, which was complete, in protest against the incidents of carnage at two places in Kishtwar yesterday.

A CRPF jawan removes a burnt tyre to clear the road for his vehicle at Gumat Chowk in the heart of Jammu City on Monday. — Photo Amin War
IN PASSING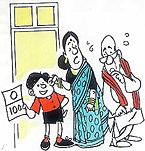 He is influenced by your politics. He says, it's a step towards success!

by Sandeep Joshi
Truce declared in Nepal
Kathmandu, July 23
The Nepalese Government and Maoist rebels declared a truce this evening ending an over five-year-long insurgency.
India, Pak Foreign Secys to meet in Colombo
New Delhi, July 23
First time after the failed Indo-Pak summit at Agra this month, Foreign Secretaries of India and Pakistan are likely to meet on the sidelines of the Foreign Secretaries meeting of South Asian Association of Regional Cooperation being held in Colombo on August 9-10.



16 massacred in Kishtwar
July 23, 2001
6 pilgrims among 13 killed in 2 blasts
July 22, 2001
Kashmir blocked peace: Pervez
July 21, 2001
Structured agenda in future must, says Opposition
July 20, 2001
Forget Agra, India tells Pakistan
July 19, 2001
Agra another step towards peace: India
July 18, 2001
Talks collapse, Musharraf leaves for home
July 17, 2001
Parleys constructive, very cordial
July 16, 2001
Resolve Kashmir issue once and for all: Pervez
July 15, 2001
Pak President arrives today
July 14, 2001