THE TRIBUNE MAGAZINES
On Mondays

On Sundays
On Saturdays
Sikhs asked to boycott Badal
Amritsar, August 18
After paying obeisance at the Golden Temple and Akal Takht, leaders of the newly formed Panthic Morcha today gave a call to the Sikh 'sangat' in India and abroad to boycott Mr Parkash Singh Badal, Chief Minister, till he tendered an unconditional apology for uttering derogatory remarks against its convener, Baba Sarbjot Singh Bedi.


Leaders of the Panthic Morcha, including Baba Sarbjot Singh Bedi, convener, Mr Gurcharan Singh Tohra, Bhai Ranjit Singh and Bhai Jasbir Singh Rode, both former Jathedars, during the 'ardas' at Akal Takht on Saturday.
— Photo Rajiv Sharma

IN PASSING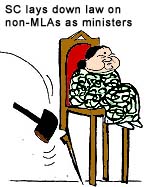 It means the privilege of continuing as a Chief Minister is for six months only.

by Sandeep Joshi
Natwar hopeful of Cong landslide win in Punjab
Chandigarh, August 18
"There is a visible change in the mood of the people as they have started realising that it is only the Congress which can give them good governance," says Mr Natwar Singh, a former External Affairs Minister and a member of the Congress Working Committee.
Allow CBI to prosecute Bikramjit: BJP
Ludhiana, August 18
Taking a stand against corruption, the state BJP has urged Chief Minister Parkash Singh Badal to let the CBI prosecute the Principal Secretary, Home, Mr Bikramjit Singh, on charges of corruption and accumulating wealth disproportionate to known sources of his income.
Jaswant pledges support to Nepal
Kathmandu, August 18
External Affairs and Defence Minister Jaswant Singh, who is on a three-day goodwill visit to Nepal, met former Prime Minister and Nepali Congress president Girija Prasad Koirala here this morning.


New Director also ineligible
Rohtak, August 18
The Haryana Government appears to have made a laughing stock of itself by replacing one ineligible Director of Pandit B. D. Sharma Postgraduate Institute of Medical Sciences here with another.
SC lays down law on non-MLAs as ministers
August 18, 2001

Pak not to raise Kashmir issue at world fora: PM
August 17, 2001

Ultras kill 5 in Udhampur
August 16, 2001

13 killed in HP landslides
August 15, 2001
Take Brajesh off J&K, Jaswant, Advani tell PM
August 14, 2001

NC leader among 12 killed
August 13, 2001

PM, Advani face Pak ultra threat
August 12, 2001

Loktantrik party pulls out of UP Govt
August 11, 2001

Centre determined to crush proxy war
August 10, 2001

Jammu to be under Disturbed Area Act
August 9, 2001