IN PASSING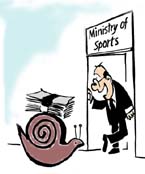 It is better late than never! After all we have recognised the Flying Sikh's contribution in the past 40 years!!

by Sandeep Joshi
HC dismisses plea to ban 'Gadar'
Chandigarh, August 21
"The preacher of a faith and the producer of a film have to respect each other's sensitivities. The diversities have to be accepted. The society has to recognise that the artiste has the right to articulate.
India pulls out of Asian Test Championship
New Delhi, August 21
The government today refused permission to the national cricket team to participate in the Asian Test Championship.

Ultras set new deadline on burqa
Officials say they are foreign mercenaries
Srinagar, August 21
The Lashkar-e-Jabbar, a hitherto unknown separatist group, has issued fresh threats against women not wearing burqa and set September 1 as the new deadline for adhering to the "Islamic dress code".


"Trace our missing kin first"
Amnesty move a betrayal, say affected families
Ludhiana, August 21
"Tell them to return my lost 'innocent' brother or at least inform us about the real culprits responsible for his disappearance and I will be the first one to pardon them." These words by Jasbir Singh of Wadla village near Khanna, whose younger brother Chamkaur Singh was allegedly picked up by the police in 1991 and is missing since then, aptly express the mood of a number of such families in the district.
PM against fresh round of talks at WTO meet
August 21, 2001
Nine Pakistani soldiers killed along LoC
August 20, 2001

Major infiltration attempts at LoC
August 19, 2001

SC lays down law on non-MLAs as ministers
August 18, 2001

Pak not to raise Kashmir issue at world fora: PM
August 17, 2001

Ultras kill 5 in Udhampur
August 16, 2001

13 killed in HP landslides
August 15, 2001
Take Brajesh off J&K, Jaswant, Advani tell PM
August 14, 2001

NC leader among 12 killed
August 13, 2001

PM, Advani face Pak ultra threat
August 12, 2001