THE TRIBUNE MAGAZINES
On Mondays

On Sundays
On Saturdays
More powers for security forces
Centre preparing balanced Bill
New Delhi, August 24
The Centre is understood to have embarked on an informal exercise to prepare a draft Bill seeking to provide special powers to the security forces engaged in counter-terrorist operations while making sure that human rights are not trampled upon.
IN PASSING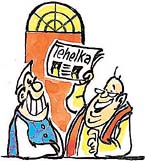 Be happy. At least there is something more dirty than politics!
by Sandeep Joshi
Madarsas push up land prices
Patna, August 24
These are disturbing facts for the internal security of the nation. The talks are not only in the air but the Indian Military and Civil Intelligence agencies also admit it in their reports.
Chohan renounces secessionism
Wants KPS Gill tried
New Delhi, August 24
Former Director-General of Police, Mr K P S Gill, and other senior officials should be prosecuted for crimes against innocent persons during militancy, said Khalistan idealogue Dr Jagjit Singh Chohan, here today.


Badal backs Centre on amnesty issue
August 24, 2001

No blanket amnesty for Punjab cops
August 23, 2001

Meeting on SYL deadlocked
August 22, 2001

PM against fresh round of talks at WTO meet
August 21, 2001

Nine Pakistani soldiers killed along LoC
August 20, 2001

Major infiltration attempts at LoC
August 19, 2001

SC lays down law on non-MLAs as ministers
August 18, 2001

Pak not to raise Kashmir issue at world fora: PM
August 17, 2001

Ultras kill 5 in Udhampur
August 16, 2001

13 killed in HP landslides
August 15, 2001