IN PASSING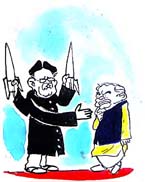 Believe me, Atalji. This is our helping hand!

by Sandeep Joshi
Cong to fight communalists
Muktsar, January 14
The Congress today put up a good show and attracted a huge gathering at a conference organised on the occasion of Maghi mela despite the absence of senior leaders, including former Chief Minister Rajinder Kaur Bhattal, Mr Jagmeet Brar, MP and the DCC chief, Mr Raghbir Singh.


Opposition agendaless: Badal
Muktsar, January 14
An overcast sky, strong winds and chilly weather notwithstanding, conferences and rallies here triggered a political heat wave. This was perhaps the last common venue for political parties to demonstrate their strength ahead of the Assembly elections.
| | |
| --- | --- |
| | Chief Minister Parkash Singh Badal sits on a chair while Himachal Chief Minister Prem Kumar Dhumal discusses a point with Mr Sukhbir Singh Badal at a Maghi Mela political conference in Muktsar. At extreme left is Mr Jagdev Singh Talwandi. — Tribune photo Manoj Mahajan |
Walk a step, we'll take two, Jaswant tells Pak
January 14, 2002

Musharraf bans LeT, Jaish-e-Mohammad
January 13, 2002

Army chief warns Pak against N-strike
January 12, 2002

Bush assures Advani
January 11, 2002

Advani holds talks with Ashcroft
January 10, 2002
LeT attacks Army camp
January 9, 2002

India rules out talks with Pakistan
January 8, 2002

Vajpayee, Pervez meet
January 7, 2002

Mend your ways, Vajpayee tells Pervez
January 6, 2002

Musharraf gets late coming via China
January 5, 2002

Jaswant Singh calls Pakistan's bluff
January 4, 2002