THE TRIBUNE MAGAZINES
On Mondays

On Sundays
On Saturdays


21 ministers take oath today
Rana Sodhi is Political Adviser to CM
Chandigarh, March 4
A three-tier Punjab Council of Ministers will take oath of office and secrecy at Punjab Raj Bhavan tomorrow at 11 am, sources in the Punjab Pradesh Congress Committee said today, maintaining that former Chief Minister Rajinder Kaur Bhattal would be one of the Cabinet Ministers in the new government.

MPs pay homage to Balayogi
Parliament adjourned till March 7
New Delhi, March 4
Both the Lok Sabha and the Rajya Sabha were adjourned till Thursday after Parliament paid homage to Speaker G.M.C. Balayogi, who was killed in a helicopter crash in Andhra Pradesh yesterday.


In video: (28k, 56k)
Naidu reviewing support to Centre
BJP wants speakership to remain with TDP
New Delhi, March 4
Even as the BJP is firm that the speakership of the Lok Sabha will remain with Andhra Pradesh Chief Minister Nara Chandrababu Naidu's Telugu Desam Party, the issue is mired in controversy because of the mayhem in Gujarat and the VHP's threat to go ahead with the temple construction in Ayodhya.
In Education Tribune today
IN PASSING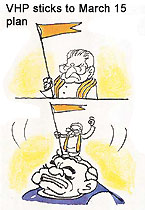 by Sandeep Joshi
Zimbabwe escapes suspension
Coolum, March 4
Commonwealth leaders today decided not to suspend Zimbabwe from their organisation over violence that has marred the country's ongoing presidential campaign. Britain, Australia and New Zealand had demanded Zimbabwe's immediate suspension but the African nations successfully blocked that move and insisted no action be taken until the March 9-10 vote.
Decks cleared for first Chief of Defence Staff
New Delhi, March 4
Decks were today cleared for naming the country's first-ever Chief of Defence Staff, with the government filling up all key posts for the new integrated defence staff.



Avalanches claim 3 lives
Shimla, March 4
At least three persons, including a six-month-old child, were killed in different parts of the tribal district of Kinnaur today due to avalanches and landslides. Two persons were trapped under an avalanche at Namgia, of which one was rescued while the body of the other was yet to be traced.
Gujarat toll mounts to 450
March 4, 2002

49 more burnt alive, toll 400
March 3, 2002

Army stages flag march, riot toll 200
March 2, 2002

Sinha hits salaried class the hardest
March 1, 2002

Sabarmati Express set ablaze, 57 dead
February 28, 2002

Second class passengers to pay more
February 27, 2002

President for status quo on Ayodhya
February 26, 2002

Congress wrests power in Punjab
February 25, 2002

PGI sounds plague alert
February 24, 2002

Daniel Pearl killed brutally
February 23, 2002