Cong MP's nephew killed
Indefinite curfew in Ahmedabad areas
Ahmedabad, March 15
An indefinite curfew was re-imposed today in parts of Ahmedabad, Vadodara, Bharuch and three other cities in the state as violence erupted following the religious programmes of the two communities, leaving at least one person dead and nine injured.


In video (28k, 56k)

THE TRIBUNE MAGAZINES
On Mondays

On Sundays
On Saturdays

IN PASSING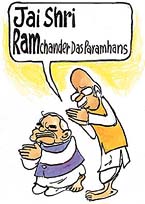 by Sandeep Joshi
Rao, Buta acquitted in JMM case
New Delhi, March 15
In a significant development, former Prime Minister, Mr P.V. Narasimha Rao and former Union Minister, Buta Singh were today acquitted by the Delhi High Court in the JMM MPs bribery case as it found no evidence to show that they had discussed paying money to the MPs in a closed-door meeting in 1993.
Arrest warrant against Pbi varsity VC
Patiala, March 15
A Patiala court today issued arrest warrants against the Punjabi University Vice-Chancellor, Dr Jasbir Singh Ahluwalia, in a case involving the complaint filed by a girl student, Saru Rana, nearly a fortnight back.
SGPC Budget likely on March 30
Amritsar, March 15
Many an eyebrow is likely to be raised in the Panthic circles over the SGPC Budget, likely to be presented in the general House here on March 30. The income from offerings of some of the historical gurdwaras has been shown as decreased.


Pathak sought as arbitrator
Wildflower Hall dispute takes new turn
Shimla, March 15
The dispute over the Rs 100-crore Wildflower Hall here today took another turn with East India Hotels Ltd. of the Oberois invoking arbitration in accordance with Clause 17 of the joint venture agreement with the Himachal Pradesh Government and returning the cheque for Rs 9 crore which was paid to them at the time of termination of the agreement last week.
SC clarifies Ayodhya order
March 15, 2002

SC orders status quo in Ayodhya
March 14, 2002

Major climbdown by VHP
March 13, 2002

No puja till SC verdict: PM
March 12, 2002

CRPF flag march in Ayodhya
March 11, 2002

Advani spells out terms for talks with Pak
March 10, 2002

Godhra moves all-party team
March 9, 2002

VHP to abide by court verdict
March 8, 2002

Governor recommends Central rule in UP
March 7, 2002

Kanchi seer's formula on temple accepted
March 6, 2002

VHP adamant on plan
March 5, 2002