Vajpayee summons Modi
Ahmedabad, March 26
In unabated communal violence in Gujarat a woman was burnt alive and a 19-year-old youth died in police firing as the Prime Minister summoned Chief Minister Narendra Modi to Delhi to discuss the situation in the state.
1800 feared dead in Afghan quake
Kabul, March 26
Up to 1,800 persons were feared killed and around 10,000 made homeless when a severe earthquake wiped out an isolated rural town in northern Afghanistan, UN and Afghan officials said today.
BT cotton cleared for commercial cultivation
New Delhi, March 26
Amidst stiff opposition from environmentalists and a section of agriculturists, the government today cleared transgenic BT cotton for commercial cultivation and marketing, thereby opening the floodgates for growing and importing genetically-modified crops.
In Health Tribune today

THE TRIBUNE MAGAZINES
On Mondays

On Sundays
On Saturdays

IN PASSING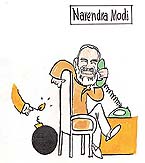 No need to worry, Atalji. Everything is under our control.

by Sandeep Joshi
HC seeks DGP's explanation
Non-production of PPSC Chairman


Chandigarh, March 26
Punjab Public Service Commission Chairman Ravinder Pal Singh Sidhu, reportedly booked by the Punjab Vigilance Bureau after conducting raids at his residence in Sector 39 here, was not produced before the Punjab and Haryana High Court despite directions.
One-day remand for Sidhu
Kharar, March 26
Mr Roshan Lal Chouhan, Judicial Magistrate, Kharar, today remanded Ravinder Paul Singh Sidhu, PPSC Chairman, in police remand for one day and ordered that the accused should be produced in court tomorrow.
Police custody for Yasin Malik
Protesters damage vehicles in Srinagar
Jammu, March 26
The JKLF chief, Mohammad Yasin Malik who was arrested by the police in Srinagar yesterday was produced before the Chief Judicial Magistrate, Mr H.K. Hanjoora, in Udhampur who remanded him to the police custody today. The CJM, on the request of Mr Malik, referred the JKLF chief to the Principal Government Medical College Jammu for full examination.

In video (28k, 56k)

Yasin Malik held under POTO
March 26, 2002

NHRC indicts Gujarat Government
March 25, 2002

PDS price for APL families cut
March 24, 2002

Govt not to deviate from NDA agenda
March 23, 2002

POTO Bill defeated in RS
March 22, 2002

Ceiling on RBI Relief Bonds goes
March 21, 2002

Sekhon forced to retire
March 20, 2002

PM vows fair poll in J&K
March 19, 2002

Godhra carnage mastermind held
March 18, 2002

Flareup claims 5 lives in Gujarat
March 17, 2002

Shila daan at akhara
March 16, 2002