90 houses burnt in Pak shelling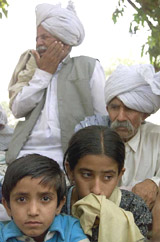 18,000 flee border villages
Jammu, May 23
Ninety houses have been gutted and nearly 18,000 persons have migrated from 50 border villages of Kathua district in Jammu and Kashmir following shelling and firing by Pakistani troops from across the international border since yesterday, official sources said here today.


In video (28k, 56k)

A girl and a boy along with elders leave their village after Pakistan mortar shelling at Chadwal, 70 km south of Jammu, on Thursday. — Reuters photo

Translate words into action, Pak told
New Delhi, May 23
India tonight sought action from Pakistan rather than words and expressed scepticism over President Pervez Musharraf's statement that Islamabad must stop sending terrorists into India in a bid to avert a war.
In Arts Tribune today

THE TRIBUNE MAGAZINES
On Mondays

On Sundays
On Saturdays

IN PASSING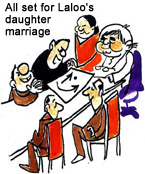 Lalooji, six top officers will escort the barat from north-west direction, four IPS officers from east-south, two from ...

by Sandeep Joshi
28 PCS officers lose jobs
18 nominated ones reverted
New Delhi, May 23
The Punjab Government has proceeded against 46 PCS (Executive) officers, now under probation, and who were selected in 1999 during the tenure of controversial Punjab Public Service Commission Chairman Ravinder Pal Singh Sidhu.
SAD MLAs to court arrest
Badal submits memo to Governor
Chandigarh, May 23
The Shiromani Akali Dal President, Mr Parkash Singh Badal, today led a delegation of party MLAs to Punjab Raj Bhavan and submitted a memorandum to the Governor, Lt-Gen J.F.R. Jacob (retd.).


Chief Justice initiates probe
Lawyers to abstain from work today
Chandigarh, May 23
Weeks after reports appeared in the media on the alleged involvement of High Court Judges in the PPSC scam, the Chief Justice has initiated an inquiry into the allegations. Dissatisfied with his claim, however, the members of the Punjab and Haryana High Court Bar Association today resolved to hand over a memorandum to the Governors of the two states on May 28, besides abstaining from work tomorrow.
PPSC scam probe: glaring gaps, 31 'missing' names
May 23, 2002

Six more Pak soldiers killed
May 22, 2002

Six Pak troops killed
May 21, 2002


Paramilitary forces on LoC, border under Army control
May 20, 2002


Pak told to recall High Commissioner
May 19, 2002


Nation committed to end Pak-backed terrorism
May 18, 2002


Time for action, says Army Chief
May 17, 2002


Badal sought UPSC berth for Sidhu
May 16, 2002

Militants massacre 23 kin of Army men
May 15, 2002

India to expose Pak mischief
May 14, 2002