THE TRIBUNE MAGAZINES
On Mondays

On Sundays
On Saturdays

IN PASSING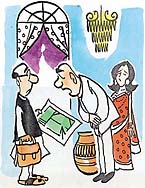 According to Vastu Shastra which way should our cash room face to avoid CBI raids?
by Sandeep Joshi
Hizb, Lashkar ultras clash: 7 killed
Jammu, June 12
In a shootout between activists of the Lashkar-i-Toiba and Hizb-ul Mujahideen seven militants were killed in Mikhwan village under Atholi police station in Kishtwar belt today. According to the police the two groups remained engaged in a gun battle that lasted for more than an hour.
Left to field its own candidate
New Delhi, June 12
The recently constituted non-Congress and non-BJP People's Front met a premature death with the Left parties today deciding to put up a candidate for the Presidential election against NDA nominee A.P.J. Abdul Kalam.
CBI recovers crores in raids
Jaipur IT Joint Commissioner held
New Delhi, June 12
A day after countrywide raids targeting senior government officials, the CBI has recovered crores of rupees and arrested Income Tax Joint Commissioner in Jaipur Ram Avatar Verma, who was found possessing assets disproportionate to his known sources of income, CBI sources said here today.
Searches yield property worth Rs 1.8 crore
Chandigarh, June 12
Moveable and immovable property worth Rs 1.80 crore in the form of cash, jewellery, property and fixed deposits was claimed to have been seized by the CBI from the bank lockers and houses of former acting Chief Justice of the Punjab and Haryana High Court and Chairman of the Oil Selection Board M. R. Agnihotri and members of his family here today.



Pioneer of power supply to villages


Chandigarh, June 12
He neither went to any engineering college nor holds any high-profile degree in modern technology. A simple man to the core, he has not even tasted tea for the past 32 years. But by way of his inventions, he has helped the Punjab State Electricity Board to save crores of rupees on 24-hour power supply to villages (human settlements).

Front splits as SP supports Kalam
June 12, 2002

India lifts ban on Pak flights
June 11, 2002


Geelani arrested under POTA
June 10, 2002


UAV goes missing
June 9, 2002


India to wait & watch
June 8, 2002


Battered staffer returns home
June 7, 2002


India ready for joint patrolling on LoC: PM
June 6, 2002


India rejects third-party mediation
June 5, 2002

Petrol to cost Rs 2.50 more
June 4, 2002


PM to talk with Putin and Zemin, but not Musharraf
June 3, 2002


13 Pak troops killed
June 2, 2002