THE TRIBUNE MAGAZINES
On Mondays

On Sundays
On Saturdays

IN PASSING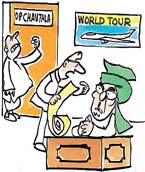 He is a known trouble-maker. We can't leave him behind!

by Sandeep Joshi
Hari Jaisingh is President of Editors Guild


New Delhi, June 14
The Editor of The Tribune, Mr Hari Jaisingh, was unanimously elected President of the Editors Guild of India at the annual general meeting of the guild here today. He succeeds Mr Mammen Mathew, Editor of Malayala Manorama, Kottayam.
Jacob, Haryana, Himachal back SGPC's demands
Amritsar, June 14
In a significant development, the governments of Himachal Pradesh and Haryana and the Punjab Governor Lt-Gen JFR Jacob have supported the demands of the Shiromani Gurdwara Parbandhak Committee, including debarring Sehajdhari Sikhs from exercising their franchise in gurdwara poll.
High-velocity squall hits life
Chandigarh, June 14
An 85 km per hour velocity squall, accompanied by sharp rain, disrupted life in the city and several parts of Haryana and Punjab shortly before noon today. However, the squall and rain brought respite to people from the oppressive and sultry weather conditions.


IRB recruitments raise hackles
Centre demands transparency
Karnal, June 14
The Union Government has taken strong exception to the procedure of recruitment adopted by the Haryana Government for raising the India Reserve Battalion for Haryana. The training of the first India Reserve Battalion, which was sanctioned by the Union Government for Haryana, was started last week at the newly started training and recruitment centre at Gurgaon.

Congress falls into line on Abdul Kalam
June 14, 2002

USA offers ground sensors for LoC
June 13, 2002

Front splits as SP supports Kalam
June 12, 2002

India lifts ban on Pak flights
June 11, 2002


Geelani arrested under POTA
June 10, 2002


UAV goes missing
June 9, 2002


India to wait & watch
June 8, 2002


Battered staffer returns home
June 7, 2002


India ready for joint patrolling on LoC: PM
June 6, 2002


India rejects third-party mediation
June 5, 2002