THE TRIBUNE MAGAZINES
On Mondays

On Sundays
On Saturdays

IN PASSING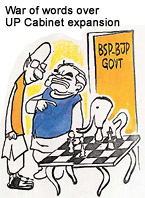 How do we move this 'elephant' to avoid checkmate?

by Sandeep Joshi
---

Sports page
Germany in World Cup final




Germany's Michael Ballack celebrates his goal as South Korea's goalkeeper Lee Woon-jae lies on the ground in the World Cup semifinal match in Seoul on Tuesday. Germany beat South Korea 1-0 to enter the final. — Reuters


---
Education board chief joins office
SAS Nagar, June 25
The Chairman of the Punjab School Education Board, Dr Kehar Singh, joined office here today after coming back from a private trip abroad.


VENDETTA COMPLAINTS — I
Excesses yes, but not as claimed by SAD-BJP
Chandigarh, June 25
No one can deny that in Punjab the affluent and the influential, besides those in power, have been misusing their connections, especially in the police, to browbeat their opponents, get them implicated in false cases and settle scores. Unfortunately, irrespective of the political party in power, the police has always been the whipping boy.
Stand by your pledge
June 25, 2002

Divide J&K into 4: VHP
June 24, 2002

VHP threatens Muslims, seeks ban on madarsaas
June 23, 2002

Nag test-fired twice
June 22, 2002

Pakistan bans foreign funding of madarsaas
June 21, 2002

Petrol to cost more in Punjab
June 20, 2002

Pak waives duty on 600 Indian items
June 19, 2002

Troop pullout in 8 weeks
June 18, 2002

Militants massacre 5 in Udhampur, 6 in Doda
June 17, 2002

Farooq escapes attack
June 16, 2002

India rules out foreign troops for Kashmir
June 15, 2002