Pervez empowers self to sack PM


New Delhi, July 12
President Pervez Musharraf tonight said he would give all powers to the Prime Minister to run the country, but armed himself with powers to sack an 'errant' Prime Minister through a super-powerful National Security Council (NSC).
Suraj Bhan joins race for VP's post
Chandigarh, July 12
Himachal Governor, Suraj Bhan has joined the race for the post of Vice-President of the country following re-thinking in the BJP over the candidature of former Rajasthan Chief Minister, Bhairon Singh Shekhawat, who was being considered as the final choice of the party till a few days ago, according to an informed source.
THE TRIBUNE MAGAZINES
On alternate Mondays

On Sundays
On Saturdays

IN PASSING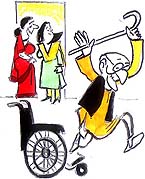 Somebody told him that he might be considered for the VP post!
by Sandeep Joshi
Commandos protect chariots
Modi flags off Jagannath yatra
Ahmedabad, July 12
The 125th rathyatra started under tight security arrangement from the Jagannath temple in the Jamalpur area of the city this morning in a festive mood with devotees singing bhajan and beating drums.
Video (28k, 56k)
Devotees carry an idol of Lord Jagannath during a religious procession in Puri, Orissa, on Friday. — Reuters
Jaya to get MDMK banned
Chennai, July 12
Continuing her onslaught on the MDMK and the drive against supporters of the LTTE, the banned Sri Lankan Tamil militant outfit, Tamil Nadu Chief Minister Jayalalithaa today said her government would initiate steps to get the MDMK banned for its open support to the "deadly and treacherous" LTTE.


Video (28k, 56k)


It's political rivalry, say Tangri, son
Ludhiana, July 12
Shiv Sena (Rashtravadi) chief Jagdish Tangri and his son Sunil Tangri remain defiant although they are the main accused in a number of alleged illegal activities going on in the Gur Mandi area of Chaura Bazar. They were denied anticipatory bail by Mr S.M.S. Mahal, Additional Sessions Judge, today.



Editorial: Kingdom of hell

Venkaiah blends youth with experience
July 12, 2002

PM for consensus on labour reforms
July 11, 2002

Alexander quits
July 10, 2002

Parties reject EC order
July 9, 2002

Thousands bid adieu to Ambani
July 8, 2002

Buddhadeb meets Advani
July 7, 2002

Sukh Ram gets 3-yr RI
July 6, 2002

Mamata seeks PM's intervention
July 5, 2002

PM in a bind on Mamata issue
July 4, 2002

Parleys on to rope in Mamata
July 3, 2002

Shatrughan, Jana, Verma inducted into Cabinet
July 2, 2002

Jaswant Singh to be new Finance Minister
July 1, 2002