THE TRIBUNE MAGAZINES
On alternate Mondays

On Sundays
On Saturdays

IN PASSING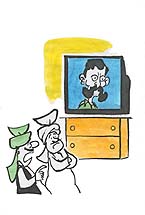 How should we get him to put SYL on his demands' list?
by Sandeep Joshi
Ban functions of Ashutosh: NCM
New Delhi, August 27
The National Commission for Minorities (NCM) has directed the Punjab Government to ensure that no function of self-styled spiritual leader and founder of the Divya Jyoti Jagrati Sansthan (DJJS), Baba Ashutosh, is allowed to be held in Punjab till the next hearing.
Uneasy calm at NIT
Students leave for homes
Hamirpur, August 27
An uneasy calm prevails on the campus of the National Institute of Technology here on the second day. It presented a deserted look as students have started going back to their homes after the institute's closure.
Missing councillor murdered, colleague arrested
New Delhi, August 27
Atma Ram Gupta, a 50-year-old Congress municipal councillor from Tri Nagar, who was reported missing for the past four days, has been murdered and his body disposed of somewhere in western Uttar Pradesh allegedly by his fellow corporator, Sharda Jain and her brother, Raj Kumar, alias Raju.
Check exploitation of Punjabi girls
60 MPs tell Amarinder Singh
Chandigarh, August 27
Upset over the growing incidence of exploitation of girls by "overseas Punjabis" on the pretext of marrying them and subsequently dumping them back home has provoked the President of the Lok Bhalai Party and Mr Balwant Singh Ramoowalia, to organise a movement to check this serious "social menace".
SC notices to Centre, EC, states & parties
August 27, 2002
President okays poll Ordinance
August 26, 2002
Cabinet returns poll Ordinance to Kalam
August 25, 2002
India gives clear message to Armitage
August 24, 2002

First-phase J&K poll notified
August 23, 2002

SAARC agrees on combating terror
August 22, 2002

SC gets presidential reference on Gujarat
August 21, 2002

J&K poll on schedule
August 20, 2002

EC's order referred to President
August 19, 2002

BJP says EC creating constitutional crisis
August 18, 2002

Pramod to file defamation suit
August 17, 2002