THE TRIBUNE MAGAZINES
On alternate Mondays

On Sundays
On Saturdays

IN PASSING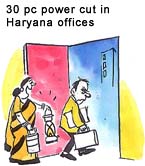 Don't forget to keep this also!
by Sandeep Joshi
Dalmiya puts ball in ICC court
Kolkata, August 28
The Board of Control for Cricket in India today said only the International Cricket Council had the authority to take a final decision on any proposal from cricketers to break the impasse over the controversial sponsorship contract.



In video: Former Indian cricket team manager Ajit Wadekar agrees that the Cricket Board should solve the dispute for players. (28k, 56k)

Rice mill gets Rs 1.5 cr 'refund' illegally
It is tip of iceberg in Mandi Board scam
Chandigarh, August 28
The Punjab Mandi Board is scrutinising an inhouse report, wherein, it has been revealed that more than Rs 1.5 crore has been refunded by way of market and rural development fees to a rice mill, which was not entitled to such repayment, as it had not paid either of the two fees.


Punjab Cong holds dharnas
Says NDA govt scam-tainted
Ropar, August 28
The district unit of the Congress today staged a dharna in the district administrative complex here against the NDA government's "anti-people" policies, especially favouritism in the allotment of petrol stations and gas agencies.

Ms Preneet Kaur, MP, during a Congress protest march outside the Patiala railway station on Wednesday. — Photo Subhash Patialvi
Work restored to 3 HC judges
August 28, 2002
SC notices to Centre, EC, states & parties
August 27, 2002
President okays poll Ordinance
August 26, 2002
Cabinet returns poll Ordinance to Kalam
August 25, 2002
India gives clear message to Armitage
August 24, 2002

First-phase J&K poll notified
August 23, 2002

SAARC agrees on combating terror
August 22, 2002

SC gets presidential reference on Gujarat
August 21, 2002

J&K poll on schedule
August 20, 2002

EC's order referred to President
August 19, 2002

BJP says EC creating constitutional crisis
August 18, 2002

Pramod to file defamation suit
August 17, 2002