THE TRIBUNE MAGAZINES
On alternate Mondays

On Sundays
On Saturdays

IN PASSING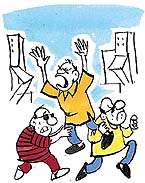 Stop. I want to be kidnapped by none other than Veerappan!

by Sandeep Joshi
Ms Laxmi Kanta Chawla, a former BJP MLA, and other party workers stage a mandal-level dharna in Amritsar on Tuesday.
— photo Rajiv Sharma.
Ravi Kant arrested, fears wife
Panchkula, September 3
Ms Madhu Sharma, wife of IG Ravi Kant Sharma, main accused in the Shivani Bhatnagar murder case, today said she apprehended her husband has been picked up by the Delhi police.



Sharma in India, says police
Release water to TN, SC tells Karnataka
New Delhi, September 3
The Supreme Court today ordered the Karnataka Government to release from its four reservoirs 1.25 tmc feet of water everyday to Tamil Nadu, starting tomorrow.


In video (28k, 56k)


SPECIAL REPORT
'Hospital panels toothless'
Experts rue flourishing organ trade
New Delhi, September 3
Hospital authorisation committees screening applications for organ donations from live donors can at best reject applications on detecting claims of false kinship. They are not authorised to take any punitive action.
SC stands by EC order
September 3, 2002

APHC defers decision
September 2, 2002

Bail-out package for UTI
September 1, 2002

Plot to kill Gujarat CM
August 31, 2002
No time-limit to stop infiltration: Pervez
August 30, 2002
SC stays decision on petrol stations
August 29, 2002
Work restored to 3 HC judges
August 28, 2002
SC notices to Centre, EC, states & parties
August 27, 2002
President okays poll Ordinance
August 26, 2002
Cabinet returns poll Ordinance to Kalam
August 25, 2002