THE TRIBUNE MAGAZINES
On alternate Mondays

On Sundays
On Saturdays

IN PASSING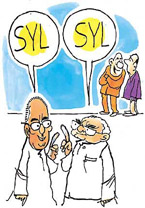 SYL means several years later!

by Sandeep Joshi
India dismisses Pak allegations
New Delhi September 5
India today rubbished Pakistan President Pervez Musharraf's allegation that India's external intelligence agency Research and Analysis Wing (RAW) was involved in attacks in that country and said it was an attempt to divert attention from the truth.
World page


'Keep off' J&K poll, America tells Pak


PM to meet Bush, not Musharraf
Haryana IGP arrested
New Delhi, September 5
After evading arrest in a customs duty-evasion case for more than a year, the Haryana Inspector-General of Police Harish Kumar was today arrested by the Delhi police on the charges of violation of the Conservation of Foreign Exchange and Prevention of Smuggling Activities Act (COFEPOSA).


Bhattal leaves without CM's nod


Chandigarh, September 5
Did Punjab Agriculture Minister Rajinder Kaur Bhattal target senior Congressmen, including Chief Minister Amarinder Singh, during her meeting with Congress chief Sonia Gandhi, before leaving for Canada yesterday? Her suggestion to Mrs Gandhi that the party should take a serious view of the foreign jaunts of all such Congressmen who go there and hold only indoor meetings with the rich and influential than interact with NRIs at large is being politically viewed as a direct dig at the Chief Minister and his colleague, Finance Minister, Lal Singh, in reference to their recent "controversial trip to the UK and the USA."
India beat Pak 3-2 in hockey
September 5, 2002

Jacob likely to replace Bhandari in Gujarat
September 4, 2002

SC stands by EC order
September 3, 2002

APHC defers decision
September 2, 2002

Bail-out package for UTI
September 1, 2002

Plot to kill Gujarat CM
August 31, 2002
No time-limit to stop infiltration: Pervez
August 30, 2002
SC stays decision on petrol stations
August 29, 2002
Work restored to 3 HC judges
August 28, 2002
SC notices to Centre, EC, states & parties
August 27, 2002
President okays poll Ordinance
August 26, 2002
Cabinet returns poll Ordinance to Kalam
August 25, 2002