THE TRIBUNE MAGAZINES
On alternate Mondays

On Sundays
On Saturdays

IN PASSING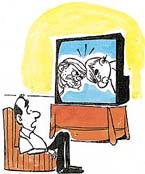 After Rajdhani, it's the turn of Nitish Express and Laloo Mail...

by Sandeep Joshi
Train mishap: Nitish mum
New Delhi, September 11
Union Railway Minister Nitish Kumar today refused to comment on the cause of derailment of the Howrah-New Delhi Rajdhani Express near Rafiganj, pending the preliminary findings of the statutory inquiry by the Commissioner of Railway Safety.

In video (28k, 56k)



112 bodies extricated

Another Rajdhani mishap


Nation page: Train mishap: rescue work 'slow'



Rescue operations are on and medical aid is being provided to those injured in the derailment of the Rajdhani Express.
In Video: (28k, 56k)

Emotional re-union: A relative hugs a survivor of the Rajdhani Express mishap, at the New Delhi railway station early on Wednesday morning. — PTI photo
SAD dharnas, memos
Muktsar, September 11
Former Chief Minister and President of the Shiromani Akali Dal, Mr Parkash Singh Badal, today urged all political parties to come on common platform to defend the state's interest.



Ludhiana page: Police gives in to violent protesters


Bitumen scam drains HP
Shimla, September 11
Transporters allegedly in connivance with officials have been depriving the Himachal Government of crores of rupees by large-scale alleged malpractices in the supply of bitumen. The modus operandi is simple — quote unreasonably low rates to secure contract for the transportation of bitumen from the two oil refineries at Mathura and Panipat and then make good the loss by selling a good part of the supply on the black market during transit.
Ultras kill J&K Law Minister
September 11, 2002

Rajdhani jumps track,
100 feared dead
September 10, 2002

Modi kicks off gaurav yatra
September 9, 2002

BCCI ultimatum to players
September 8, 2002

ICC bows to players
September 7, 2002

No free power for farmers
September 6, 2002

India beat Pak 3-2 in hockey
September 5, 2002

Jacob likely to replace Bhandari in Gujarat
September 4, 2002

SC stands by EC order
September 3, 2002

APHC defers decision
September 2, 2002

Bail-out package for UTI
September 1, 2002